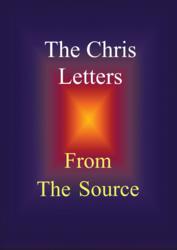 LAS VEGAS, Nev. (PRWEB) January 21, 2013
What if the original message delivered by Christ in ancient times contained much more than was allowed to be revealed?
Author Craig Gutchow's new book, 'The Chris Letters', is a series of progressive messages that awaken the soul by lifting the veil of darkness, and allowing the individual to discover the definable Laws of Soul and Nature that govern and explain our existence in both the physical and the spiritual realm.
Derived from an ancient Spiritual Source, these letters answer the many fundamental questions that have long since plagued mankind regarding our true identity as spiritual beings in a physical world.
In each Chris Letter, the missing teachings are brought to light and once again revealed in such a manner that the mysterious nature of unexplained events in our lives and this world all begin to dissolve and make perfect sense.
'The Chris Letters' weave a tapestry of illumination and understanding of why we as individuals and the human race have been trapped in an endless, deepening, divisive cycle – repeating the same mistakes century after century. The elemental order, source and workings of life, love, joy, hate, anger and forgiveness are explained, along with the keys to healing one's self and the world from its present state of confusion.
This book, in its essence, provides the knowledge and answers from the original missing teachings to the ancient questions of meaning and purpose behind existence, and our common mission in this world.
The Chris Letters
By Craig Gutchow
ISBN: 978-1-4525-5872-1
Pages: 38
Price $8.99
Available at http://www.balboapress.com, http://www.amazon.com, and http://www.barnesandnobles.com
About the author
Craig Gutchow graduated from Fresno State University. He is a former Air Force Officer and Combat Pilot, awarded Distinguished Flying Cross. Currently, Gutchow is in the realty business. His hobbies consist of racquetball, motorcycle sport, bike riding and flying.
###