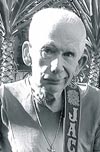 Eadon will be the first and only subject at a Swallowing Boot Camp this month.
La Jolla, CA (PRWEB) January 21, 2013
Jack Eadon, leader and guitarist/vocalist for the '60s and early '70s progressive rock band Khazad Doom and author of the American Drama series, has been battling with dysphagia since his 2010 brain surgery to remove a rare epidermoid brain tumor. Always willing to do whatever it takes to improve his condition and be a champion for others, Eadon will be the first and only subject at a Swallowing Boot Camp this month.
Eadon will attend the Swallowing Boot Camp at Scripps Memorial Hospital in La Jolla, CA for two weeks, beginning January 14, 2013. He will write a daily log of his pioneering experience for medical documentation, to raise awareness of dysphagia, and to inspire others with the condition to treat it aggressively whenever possible. In addition, Eadon plans to broadcast selective video of his treatments at his websites http://www.eadonbooks.com and http://www.jacksgettingback.com. Video will also be shown at the websites for the National Foundation of Swallowing Disorders and The Epidermoid Brain Tumor Community http://www.ebtcommunity.org
People with dysphagia are usually fed liquid food through a G-Tube inserted directly into the stomach wall or an N-Tube, inserted through the nose. Both methods avoid the dysfunctional swallowing mechanism, yet deliver nutrition to the stomach. Alternately, some patients are fed intravenously. Eadon, who had brain surgery on August 17, 2010, had expected to be swallowing normally by November 1st of that year. Instead, his ninth and tenth nerves, which control swallowing, experienced so much trauma that he was unable to eat or drink. Within the first year, he lost eighty pounds.
The swallowing boot camp's architect is Dr. Peter Belafsky of UC-Davis who saw Eadon as a prime candidate for this pioneering process. At the swallowing boot camp, Eadon will focus on regenerating functional swallowing ability in partnership with Speech Pathologist, Liza Blumenfeld. "My hope," said Eadon, "is that by going through the daily intense therapy that will include exercises, scoping and biofeedback on swallowing position, and constant e-Stim (electrodes stimulating the larynx.), I will hone and retrain my swallowing muscles. I'll even be using an iPhone app designed to provide me with reminders to swallow every forty-five seconds!" Eadon's results could range from incremental changes to his becoming a recipient of stem cells that will accelerate regeneration of his ninth and tenth nerves.
Never a quitter, Eadon has not let his brain tumor or dysphagia stop him from writing his American Drama series of novels. Currently, he has been serializing the second novel in the series "A Consequence of Greed." The novel's serialization has an increasing number of followers in the United States and internationally, including such diverse places as Europe, Mexico, Canada, and Singapore. As usual, Eadon's life influences his writing. His first book in the series "HEAD TRIP" included his main character undergoing brain surgery, and he is currently writing another book, "LIFE is in the TRYING."
About the Author
Jack Eadon's writing and music career was launched in high school when he began a decade in rock music by writing songs for the progressive Chicago rock band "Khazad Doom," including one of the five all-time bestselling cult albums, "Level 6½," an original vinyl copy of which has sold for as much as $1,500. Many of his songs had a moralistic drama theme, which he continued to use as an author in his "American Drama Series" which focuses on the Seven Deadly Sins. After earning an MBA and doing a stint in the corporate world, Eadon opened his own business in southern California. Today, he writes full-time and is the author of numerous books, including "HEAD TRIP," the debut novel in his seven-volume "American Drama Series."
"HEAD TRIP" (ISBN 9780982495407, Eloquence Press, 2011) and the other American Drama Series titles can be purchased through local and online bookstores and at http://www.EadonBooks.com. Publicity contact: http://www.ReaderViews.com. Review copies available upon request.