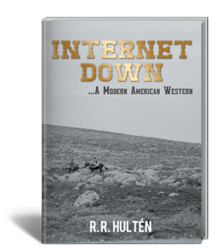 DENVER, Colo. (PRWEB) January 21, 2013
With international terrorist groups threatening America's national security every day, what would happen if they succeeded and sent the nations technology back to the dark ages?
Author and retired communications technician, R. R. Hulten explains an America with no internet in his new book, Internet Down, A Modern American Western. This fictional adventure follows the struggles of Chris Nelson, the sole survivor of a terrorist attack on an oil drilling rig. As the plot excels, Chris is led on a fast-paced journey of getting back home during a nationwide internet outage with no money, credit card, cell phone or identification.
As the chapters continue, the reader will gain insight into how easily the nation could be disabled by a technological war. Hulten aims to illustrate and educate the reader on how the country would return to a modern American western story, filled with distraught, war and confusion.
"As an experienced technician, I know how easy our technology can be crippled," says Hulten. "I want to educate the public on a very plausible attack and what could follow after."
Internet Down... A Modern American Western
By Richard Hulten
ISBN: 978-1-47728-323-3
Pages: 196
Price: (HC) $27.99, (SC) $16.95, (E) $3.99
Available at http://www.authorhouse.com, http://www.amazon.com, and http://www.barnesandnobles.com
About the author
Richard Hulten is retired after 32 years as a communications technician at all levels of communications technology. He served 12 years as deputy sheriff from patrol to firearms instructor and police shooting competitor at the state, regional and national levels. His hobbies are riding horseback. He currently lives in Denver.
###