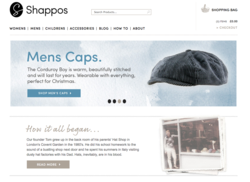 Shappos is a premium offering in the hats and accessories market and has a good brand story that resonates well with the target audience.
London (PRWEB UK) 21 January 2013
Shappos.com, a retailer of premium fashion headwear and and accessories for men and women, have chosen Visibly Better Marketing to manage their SEO activities, creating visibility for the brand amongst influential fashion bloggers and other online media.
Visibly Better won the account in a two way pitch last autumn and has already helped the business with the optimisation of their ecommerce website, working closely with the site development team from the early planning stages of the project through to it's pre-Christmas launch.
Following the site launch, Visibly Better are now embarking on a substantial blogger outreach campaign, having identified a target list of influential writers in the sector.
Shappos.com is the first client to make use of Visibly Better's "Outreachable" service, a combined platform for influencer research, communications management and campaign reporting that radically improves the efficiency and effectiveness of blogger outreach campaigns.
Stephen Pratley - Senior Digital Marketing Consultant at Visibly Better said:
"Shappos is an excellent fit for our Outreachable service. From several years of work in the fashion ecommerce sector we have a large database of proven influencers in this area whith whom we have already developed relationships. Shappos is a premium offering in the hats and accessories market and has a good brand story that resonates well with this target audience. Together we are already seeing some excellent responses to our contact strategy."
About Visibly Better Marketing
Visibly Better Marketing is a leading UK Digital agency working with clients in retail ecommerce, telecoms, finance, travel and other competitive online sectors to bring greater visibility across a range of digital channels. Our "Outreachable" campaign management solution integrates research, CRM and reporting to radically improve the effectiveness of our client campiagns.
About Shappos
Shappos.com is a modern retail company specialising in stylish, wearable and affordable headwear and accessories for men and women. The business was founded in 2012 by Tom & Tetyana Denford. Tom Denford grew up in the back room of his parents' hat shop in London's Covent Garden in the 1980's. Hats have always been, and always will be, a part of his life. His story is one that adds onto generations of hat makers and hat-wearers... and now he's continuing his mission: that everyone should own at least one amazing hat.