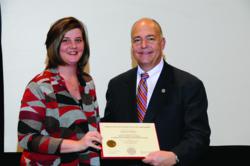 Fayetteville , NC (PRWEB) January 18, 2013
The American Bus Association (ABA) recognized Shannon Deaton, Fayetteville Area Convention & Visitors Bureau (FACVB) Tourism Sales Manager, for successfully completing the course requirements to earn her Certified Travel Industry Specialist (CTIS) designation. All graduates were honored at a special ceremony during the 2013 ABA Marketplace in Charlotte, NC.
"Shannon achieving this certification is another example of the dedication she brings to her efforts to recruit group tourism to Cumberland County," says John Meroski, FACVB President and CEO.
Available to any employee of an ABA-member organization, the CTIS program is the first university-administered certification program in the group travel industry. It is administered for ABA by Indiana University /Purdue University Indianapolis and is the first university-administered certification program for the group travel industry. Participants completed five correspondence courses over the past year, and attended and evaluated eight Industry Advancement Seminars.
The certification process is rigorous and demanding. "These graduates are rightfully viewed by their peers as dedicated individuals who care about their profession," says Peter J. Pantuso, CTIS, President and CEO, American Bus Association. To date, the program has graduated 500 since its inception in 1989.
Follow THIS LINK to download photo of Shannon receiving her certification from Pete Pantusa, President of the American Bus Association.
ABOUT THE AMERICAN BUS ASSOCIATION
The American Bus Association is the trade organization of the intercity bus industry with more than 1000 motorcoach owner and tour company members in the United States and Canada. Another 2,900 members are travel and tourism organizations and suppliers of bus products and services who work in partnership with the North American motorcoach industry.
ABOUT THE FACVB
The Fayetteville Area Convention & Visitors Bureau is a private, not-for-profit organization responsible for positioning Fayetteville/Cumberland County as a destination for conventions, sporting events and individual travel. For additional information, visit http://www.VisitFayettevilleNC.com or call 1-888-98-HEROES. Fayetteville/Cumberland County is the America's first military sanctuary. Through the Army's Army and other volunteer groups, our citizens and businesses are dedicated to "watching over those who watch over us ©."