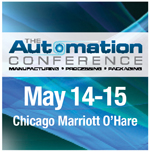 Chicago, Illinois (PRWEB) January 21, 2013
Advancing its mission of helping Illinois manufacturers be more productive and globally competitive, IMEC is supporting The Automation Conference, being held May 14-15 at the Chicago Marriott O'Hare. This annual educational and networking event, produced by Chicago-based Summit Media Group, will bring together technology end-users and industry professionals to explore how today's manufacturers can increase efficiencies using the latest automation technologies. The two-day program features over 20 technology-infused sessions designed for engineering and management professionals within discrete manufacturing, packaging, and continuous and batch processing.
Topics to be covered this year include: Energy Efficiency Opportunities for All Manufacturers; Automating the Optimization of Packaging Machinery Speed Relationships; Alarm Management; Applying IT in Manufacturing; How Embedded Technologies are Changing Automation; The Convergence of Factory Automation and Enterprise IT; ISA-95 for the Continuous & Process Industries; Capturing Process Data to Improve Performance; and Choosing a System Integrator.
Presenters include representatives from PepsiCo; Chicago-based Delta Institute and industrial drum manufacturer Skolnik Industries; plastic and chemicals producer NOVA Chemicals; Campbell Soup Company; pharmaceutical contract manufacturer Perrigo; Sweet Baby Ray's producer Ken's Foods; and other leading organizations.
Conference registration is now open, offering discounted rates for early registrants. Attendees can save an additional 10% by entering the code IMEC. More information and registration information can be found at http://www.TheAutomationConference.com or by contacting Courtney Richards in Chicago at 1-800-355-5595.
About IMEC
IMEC was established in 1996 with the goal of improving the productivity and competitiveness of Illinois' small and mid-sized manufacturing firms. A non-profit economic development organization, IMEC is funded in part by the National Institute of Standards and Technology's Manufacturing Extension Partnership, the Illinois Department of Commerce and Economic Opportunity, and through fees paid by Illinois manufacturers for IMEC's services. IMEC has 11 offices statewide and 40 full-time manufacturing improvement specialists.
About Summit Media Group, Inc.
Chicago-based Summit Media Group, Inc. publishes business information for professionals in packaging and manufacturing automation. Print magazines are Packaging World, Automation World, Packaging World's PACK EXPO Showcase, Healthcare Packaging, and Contract Packaging. Industry-leading companion websites, apps and digital resources – including market-focused newsletters, Playbooks and videos – offer additional business intelligence for Summit's subscriber and online audiences. Summit also produces webinars and conferences, and owns GreenerPackage.com.