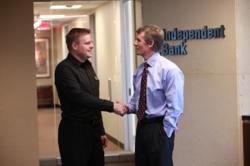 "In today's busy times and with leaders wearing more 'hats,' than ever, the peace of mind having Chaplains on our team to assist with needs of the employees is truly a gift."
(PRWEB) January 19, 2013
Two leading workplace studies on trends for 2013 cite the need for employee loyalty and the renewal of a values match, both trends being addressed by hundreds of companies which use the fast-growing strategic business initiative of Marketplace Chaplains in their workplace.
A January 2013 survey by Sodexo, http://www.sodexousa.com, a leading provider of integrated food and facilities management services with 6,000 locations in the U.S., Canada, and Mexico, listed the third trend to look for in 2013 was, 'Inspiring a Connection to People, Community and Brand .'
"Most talented (workplace) candidates today are often seeking more than just a paycheck. They are looking for values match. Companies are finding they can attract, motivate and retain top talent by creating meaningful work environments…," the report said.
That's exactly what Joe DeRosa and his Midwest chain of DeRosa's Restaurants, which operates under a variety of names, did when they brought in Marketplace Chaplains to help their employees and family members.
"Having Chaplains who know our employees, personally and on a confidential level from weekly worksite visits, to share their joys and sorrows, brings peace of mind," said Togie, a longtime DeRosa HR executive. "For me, knowing they (chaplains) are a phone call away at any time, for any reason, be it a joyful or sorrowful one, they are there to lift us up and that not only makes them part of our corporation but part of our family."
One study of recent college hires found that 86% of them would consider leaving an employer whose social responsibility fell short of their expectations. Another Sodexo survey found that 71% of all new employees arrived on the job with high levels of engagement, but after six months it dropped to 57%.
"In today's busy times and leaders wearing more 'hats,' than ever, the peace of mind having Chaplains on our team to assist with needs of the employees is truly a gift," Togie added.
Mike Matetich, owner of Jupiter Chevrolet, said "With the hustle and bustle of today's business world, it's very comforting when an employee comes to me and says 'Thank You' for caring about me and my family by having the Chaplains service."
"When my employees' personal problems are being dealt with and they are focused on their work, then they are able to provide much greater customer service, which leads to very high customer satisfaction," added Shannon Rodden, owner of No Limit Motors with North Texas five dealerships.
"The revenue, profit growth, Return on Investment (ROI) of companies with programs focusing on social responsibility are 10% greater than those companies without them," according to a Watson Wyatt consultation survey in 2008.
Marketplace Chaplains based in Dallas, Texas, has a staff of over 2,700 chaplains serving in more than 23 different industry types, in 44 states, 932 cities, 4 other countries and 1 commonwealth, and 2,843 client service locations, caring for over half a million employees and their family members.
A recent Harvard Business School article stated that customer loyalty, not simply customer satisfaction, was the key to a truly successful, sustainable business. It also highlighted that customer loyalty came from the added value and services which were produced by loyal employees who felt valued when company leadership extended care and their values to their staff.
"It's clear that the trend for 2013 businesses is the same for every year - take care of your employees' needs, both at their workplace and home, with the use of Marketplace Chaplains and they will take care of the company, which benefits both," said Dick De Witt, President and COO of Marketplace Chaplains.
For more information on this fast-growing international and domestic corporate strategic initiative featured on NBC Nightly News, CNN, Washington Post, the New York Times and Bloomberg BusinessWeek, visit http://www.mchapusa.com.
For more information or to arrange an interview with a client company or local chaplain, contact Art Stricklin at artstricklin@mchapusa.com or 1-800-775-7657.