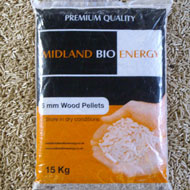 Heat logs, briquettes and bagged pallets have a moisture content of less than 10% which means you can get a higher heat output
Atherstone, Warwickshire (PRWEB) January 18, 2013
Midland Bio Energy have proudly announced their anniversary after five years. Formed late 2007 from the North Warwickshire base, the fuel suppliers have grown year on year.
'From the beginning, we have been supplying bulk commercial customers nationwide,' explains Managing Director, Andrew Brindley. 'Our website allows customers to buy wood pellets online and we also deliver bulk orders directly to fuel stores.'
Bio-mass wood pellet fuel is becoming a major fuel for commercial and increasingly domestic use after the publication of The Renewable Energy directive by the European Commission in 2009. The directive stipulates that 15% of the Nation's electricity be produced from renewable sources by 2020 and was supported by a scheme launched in 2011 which offered a £950 Renewable Heat Premium to householders towards the cost of a bio-mass boiler.
'Currently just 1.5% of UK final energy consumption comes from renewables,' explains Andrew Brindley. 'However heating equals a massive 47%. The Renewable Energy Directive has set a target for an increase in renewables from to 12% by 2020 which will in turn reduce CO2 emissions 80% by the year 2050.'
Displacing oil and gas boilers, cost effective bio-mass wood pellet fuel is becoming a major fuel in both domestic and commercial settings.
'Midland Bio Energy wood pellets are low carbon and high energy, providing around 4.8kwhr/kg. Wood pellet fuel boilers are only just taking off in the UK, but used on the continent for years. In a way, this is our advantage because the stringent specifications developed by our foreign neighbours has ensured that wood pellet fuel boilers offer very modern functions like an automatic feed and ignition and so are not unlike a common oil or gas boiler. To buy wood pellets in the long run is a lot cheaper and cleaner than standard gas or oils fuel.'
The purpose of Midland Bio Energy was initially intended to manufacture and supply the fuel products.
'We evolved very quickly after identifying a need in the market, says Andrew Brindley. 'It became clear that the market was outgrowing small producers and moving large scale, specialist producers and so we decided to concentrate on distribution and our online presence, making it easier for domestic and commercial customers to learn about and buy wood pellets on the internet.'
MBE also supply large quantities of bagged horse bedding to both individual and wholesale customers.
'Wood pellets are much more absorbent than straw, shavings or woodchip as the moisture content is so low, but they can expand up to three times their size providing a soft bed. They're also sterile due to being treated to high temperatures during production, removing the tars, oils, hydrocarbons and any other potential allergens,' explains Andrew Brindley.
'Our cost-effective wood pellets are bio-degradable and need replacing less often, drastically reducing the area of your muck heap. They are an ideal environmentally friendly option and are one of the cleanest products available on the market.'
Supplying fuel products to the commercial sector and to the equine industry soon developed and Midland Bio Energy began to provide heat logs to domestic households to cope with demand.
'Heat logs, briquettes and bagged pellets have a moisture content of less than 10% which means you can get a higher heat output,' explains Andrew Brindley. 'We supply them in easy to store 10kg packs making them ideal for a domestic environment.'
All wood harvesting is regulated by the UK Forestry Standards (UKFS) and its harvest requires a UK felling licence which ensures replanting and thus a high level of sustainability.
'A single tonne of wood pellets or heat logs equates to approximately 400 litres of heating oil,' explains Andrew Brindley, supplier of wood pellet bedding to stores and domestic households across the UK. 'So it's easy to see why so many households are converting to wood pellet fuel boilers in terms of cost and ease of use. We also supply energy rating for our fuel pellets which means our customers can convert the cost of their pellets to a more accurate cost per kWhr.'
The rapid organic growth of Midland Bio Energy has been a welcome reward for all involved.
'The majority of our domestic fuel customers were as the result of a direct recommendation or a web search, taking them to our website. To celebrate our 5th anniversary and the industry targets we have reached so far has been fantastic,' says Andrew Brindley, a supplier of wood pellet bedding and heat logs.
'Which is why we're offering a 6% discount off our listed heat logs and briquettes for all of our customers; they were essential for making Midland Bio Energy as successful as it is today, and it's our way of saying thanks to our loyal and ever increasing customer base.'
This press release is part of an ongoing SEO project by Bolton Web Designers Vizcom