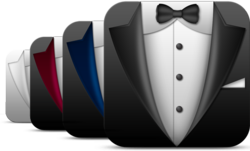 We're excited to bring the iVIP applications to Android after the successes on iOS
London (PRWEB UK) 23 January 2013
iVIP, creators of the world's first premium lifestyle application, have brought iVIP Black, the 'Millionaires' App', to the Android platform.
Previously only available on iOS – the iPhone and iPad – iVIP Black, along with the other iVIP apps (iVIP Red, iVIP Blue, and iVIP London and New York) can now be downloaded from Google Play.
https://play.google.com/store/search?q=iVIP+Ltd
Joining iVIP via one of the mobile apps gives members 'VIP Treatment' - personalised attention and heightened experiences - across a range of luxury partners.
iVIP partners include Virgin Limited Edition (Necker Island, The Lodge Verbier, and more), Firmdale Hotels, John Paul Concierge, and many other premium brands, venues and services around the world.
Membership covers all aspects of the luxury lifestyle including butlers, theatres, personal trainers, private jets, super cars, hotels, personal styling... the list goes on, and is continually being widened and improved, the latest addition being Christie's Fine Art Storage Services.
It may look like iVIP Black on Android is a bargain – at £99.99 it's £600 cheaper than on iOS – but that is only part of the process.
Wannabe VIPs must also apply to become an iVIP Black member (membership is by application only) online, where the rest of the cost is made up (this is due to the Android price ceiling).
Each applicant is then individually review by the iVIP membership team to evaluate for acceptance.
iVIP's Commercial Director and Co-Founder Matthew Rowe said:
'We're excited to bring the iVIP applications to Android after the successes on iOS. It opens a huge new market for us, and will greatly help us expand our 150,000+ strong membership'
As with the iOS version, iVIP Android is also available as a technology for other brands or companies to license, or as a partnership venture with iVIP themselves; they have just released iVIP Russia using that model, and there are plans to expand into Europe, China, Japan and the Middle East.
Find out more about iVIP here: http://ivipworld.com
And download the Android app(s) here:
https://play.google.com/store/search?q=iVIP+Ltd.
The original iOS versions are available here:
https://itunes.apple.com/gb/artist/ivip-ltd./id321969016
More on the Apps Range:
iVIP Black - £699.99
Known as the "millionaire's app", this is the most expensive app in the world – applicants must be a certified millionaire to sign up. It offers access to a range of exclusive services to help manage a jet-set lifestyle, from securing the most sought-after tables in town, to arranging an supercar driving day as well as access to private jets, yachts and even islands.
iVIP Blue - £99.99
Not a millionaire just yet but want a taste of the lifestyle? iVIP Blue offers priority access to restaurants, hotels and other venues, special gifts, exclusive rates, priority booking, complimentary hotel room upgrades and more.
iVIP Red – Free
For those seeking the chance to sample the iVIP treatment and privileges that full membership allows, the app offers a snapshot of what iVIP Black and iVIP Blue have to offer.
iVIP City - £99.99
For the discerning traveller, iVIP City comes in three editions which handpick the best hotels, restaurants and sights and hidden gems in London, St Petersburg and New York. It's ideal for anyone who wants the iVIP treatment in just one city, whether as visitor or resident.
For more information on iVIP, their products and partnerships, contact:
Matthew Rowe
Commercial Director
matthew.rowe@ivipworld.com
ENDS