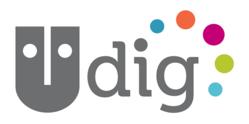 Kansas City, MO (PRWEB) January 21, 2013
Andrews McMeel Publishing (AMP) and Universal Uclick (UU) announce a joint e-book publishing initiative, Udig, to publish collected series of short, curated, collectible e-books with content derived from UU's rich creative roster, available to consumers in a variety of platforms (including e-reader, mobile, and tablet devices). Each book in the series, available wherever e-books are sold, sells for $2.99.
The publishing program further enriches the e-book offerings from AMP, the nation's premier producer of cutting-edge comics and best-selling humor, cookbook, gift, and non-fiction books, and extends the variety of formats for the talent represented by UU, the world's largest independent syndicate and a leading digital entertainment provider of humor, comic strips, political cartoons and gaming content for print, Web and mobile devices.
"This is a natural evolution of our publishing program," said Kirsty Melville, president and publisher of AMP's book division. "UU's creative talent is an abundance of riches for us, as we continue to enhance AMP's innovative and significant e-book programs."
"UU has an exceptionally deep and diverse offering of creative talent," said Lee Salem, president of UU. "Providing new opportunities for our creators is a top priority, and we expect this joint venture with AMP to be very well-received by consumers eager to enjoy UU features on-the-go and as a collectible series from favored creators."
Udig's initial offering is composed of three titles each from four UU features: Luann by Greg Evans, News of the Weird by Chuck Shepherd, Non Sequitur by Wiley Miller, and Savage Chickens by Doug Savage. Additional titles will be added quarterly. The first set of titles will consist of primarily comics and other humor; advice and editorial feature content will be offered later in the publishing program. For a complete list of titles, please visit udigbooks.com.
About Andrews McMeel Publishing
Andrews McMeel Publishing has a passion for publishing original talent, delighting consumers with innovative books and gifts that are worth sharing.
AMP fall highlights include the No. 1 New York Times Bestseller, How To Tell If Your Cat is Plotting To Kill You by Matthew Inman (The Oatmeal), and The Complete Calvin and Hobbes, Pearls Freaks the #*%# Out, and I Can't Remember if We're Cheap or Smart by New York Times Best Selling authors Bill Watterson, Stephan Pastis (Pearls Before Swine), and Scott Adams (Dilbert); Fire in My Belly by Top Chef finalist Kevin Gillespie; Canal House Cooks Every Day by Melissa Hamilton and Christopher Hirsheimer; monthly additions to the bestselling Pocket Posh ® Puzzles series, and the introduction of AMP! Comics for Kids series.
AMP is also the nation's top calendar publisher, annually producing calendars based on many top-selling properties and selling more than 15 million calendars each year. For more information please visit andrewsmcmeel.com.
About Universal Uclick
Universal Uclick is the largest independent syndicate in the world and a leading digital entertainment provider of humor, comic strips, political cartoons and gaming content for print, Web and mobile devices. Universal Uclick provides editorial development, licensing and other distribution services for iconic brands like Doonesbury, Dear Abby, Miss Manners and some of the most significant comics in history, including Calvin and Hobbes, The Far Side, Garfield, Peanuts, Dilbert, For Better or For Worse, Cathy, and Ziggy. Recent standout successes include Lio, Cul de Sac, Pearls Before Swine, Get Fuzzy, Big Nate and The Argyle Sweater. A full comic catalog can be found at GoComics.com. For more information, please visit UniversalUclick.com.
###