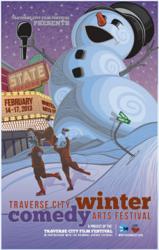 Two dozen comedians, a bunch of movies, thousands of laughs -- and 200 inches of snow.
Traverse City, MI (PRWEB) January 22, 2013
Organizers of the new Traverse City Winter Comedy Arts Festival hope they'll give visitors to this northern Michigan resort town something to laugh about in February.
Including the kids.
A joint endeavor by the Traverse City Film Festival and the National Cherry Festival, the Feb. 14-17 comedy festival will be held in several downtown venues, including the historic City Opera House, the art deco State Theatre and the Old Town Playhouse.
Operating under the slogan "Two dozen comedians, a bunch of movies, thousands of laughs -- and 200 inches of snow," the festival will feature top nationally-renowned comedians in concert each night, as well as some of the best up-and-coming comics in the U.S., an improv group or two, comedy films, and comedy filmmakers.
But the festival is also making a big effort to add free events for families to counter the perception that comedy is an adults-only attraction. Front Street, Traverse City's main downtown thoroughfare, will be closed to traffic so organizers can install a Ferris wheel, an ice skating rink, a sledding hill, and a sports arena for such events as snowblower races, a "Slip N Fall Olympics," and a comedians' curling match.
Film festival director Deb Lake says that all events will be moderately priced -- the State Theatre, for instance, will be holding a Saturday morning comedy Kids Matinee for just 25 cents -- and almost all the family events will be free.
"We love the idea of having all the fun events on Front Street be free for families to enjoy," says Lake. "It's true that a lot of comedy is kind of blue, or adult-oriented and night-time oriented, but we've always done family comedy and kids' comedy as well."
The festival will open Thursday night with a Valentine's Day concert by stand-up comedian Kathleen Madigan – winner of the American Comedy Award and the Phyllis Diller Award for Best Female Comedian. The lineup will also include filmmaker Mike Birbiglia, who'll be returning to Traverse City with his film, "Sleepwalk With Me'" Pete Holmes (the voice behind the E*Trade baby), Robert Wuhl of "Assume the Position with Mr. Wuhl" and HBO's "Arli$$," Susie Essman of "Curb Your Enthusiasm," Paul Provenza of "The Green Room with Paul Provenza."
The festival is actually a merger of two existing events – the Traverse City Comedy Arts Festival, which ran for several successful seasons but was canceled in 2012 because of scheduling conflicts, and Traverse City's former winter carnival, the Winter Wow!Fest.
Trevor Tkach, executive director of the National Cherry Festival, said the new festival will be bigger than the sum of its constituent parts.
"For all the right reasons, we're taking our wintertime efforts that went into producing the Winter Wow!Fest over the past six years, and this year we're putting them to great use by working together with the Traverse City Film Festival to make a world-class event that will benefit the entire community," he said. "Plus, we've learned that we just really like moving snow."
The celebration also incorporates many popular events from Winter Wow!fest, including the Soupr' Bowl soup cook-off and the Monster Dog Pull (where household canines compete to pull weighted sleds through the snow) a huge downtown bonfire, a Sunday pancake breakfast to benefit local food pantries, and a hot chocolate competition in partnership with local merchants.
There'll be a laser light show downtown after dark on Saturday, and the Grand Traverse Resort and Spa will close out the festival Sunday evening with its traditional President's Weekend fireworks display.
For information about other winter events in Traverse City, and for assistance with lodging and dining options, contact the Traverse City Convention & Visitors Bureau at 1-800-TRAVERSE or on line at http://www.traversecity.com.