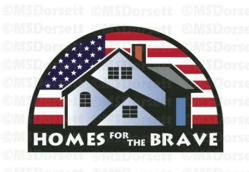 Dennis was instrumental in helping us short sale our home as we were transferred to Alaska - Andrea...We were located in California and Dennis guided us thru the process long distance and will recommend him - Rose.
Virginia Beach, VA (PRWEB) January 20, 2013
Military Short Sales are becoming more popular with Armed Forces Personnel who have or must relocate due to Permanent Change of Station Orders (PCS).
Of particular concern is finding the Military Home Owner an experienced REALTOR®/Real Estate Agent with short sales to expedite the sale, lender negotiation, and get the property to closing. With this in mind, the National Military Short Sale Referral Agency should help Armed Forces Personnel. Dennis Blackmore states:
"It is important that the military member wherever stationed be expeditiously connected with a local short sale expert to help alleviate what in many cases is extreme hardship with paying a mortgage on a former home yet facing housing costs at the new duty station. Taking advantage of the Government's once in a lifetime short sale opportunity for military members should not be overlooked".
The National Military Short Sale Referral Agency will immediately conduct the research for the military member to ensure the REALTOR®/Real Estate Agent is responsive to their issues and concerns. This includes checking on experience, references, and personal contact.
New Government guidelines allow military personnel to short sale their home without missing a payment (and minimal credit "hit") or being "delinquent". The National Settlement Act states:
PCS orders. Under the Department of Defense's Homeowners' Assistance Program (HAP), certain service members who are forced to sell their home at a specified loss due to a Permanent Change in Station (PCS) may be partially compensated for the loss in their home's value. However, under the governing statute for HAP, only certain PCS service members are eligible for benefits. Under this settlement, all of the participating servicers will provide mandatory short sale agreements and deficiency waivers to certain service members who are currently ineligible for HAP.
Need Referral Help? Contact Dennis Blackmore here.
Dennis Blackmore is a Retired Naval Officer REALTOR(R)/Agent Owner with Creed Realty Virginia Beach, VA. He serves the local military community with both purchases and sales of real estate.