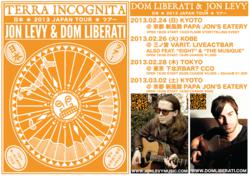 I am very excited to be performing in Japan on our international tour, Terra Incognita.
Los Angeles, CA (PRWEB) January 22, 2013
Alternative rock artist Dom Liberati and Australian/New Zealander singer and songwriter Jon Levy have teamed up for an exciting international tour, Terra Incognita, that includes four headlining performances across Japan next month. The two talented and popular artists are taking the country by storm with Liberati's unplugged style performances accompanied by Jon Levy on guitar. The four-show Japan tour, which includes performances in the great cities of Tokyo, Kobe and Kyoto, trails Liberati's ongoing solo acoustic shows at some of the most popular Los Angeles clubs, where he has been testing his brand new material he developed in the studio that will soon be previewed on upcoming band dates.
In additional exciting developments, Liberati will soon release his first single/music video of 2013 for "Walk," which follows on the heels of his successful All Eyes Open 2012 summer tour to promote his new album, The Good Hurt.
The Japan headlining tour will include the following Japanese shows:
Feb 24 – Kyoto at Papa John's Eatery, Flame event
Feb 26 – Kobe at Varit
Feb 28 – Tokyo at Bar? CCO in Shimokiazawa
Mar 2 – Kyoto at Papa John's Eatery
Tickets for all shows are on sale now.
"I am very excited about my Japan tour, especially having the opportunity to perform with my good friend and very talented artist, Jon Levy, in the beautiful cities of Tokyo, Kyoto and Kobe," said Liberati. "Jon and I are also looking forward to shooting a new music video in Japan, where Jon was born and raised."
About Jon Levy
Jon Levy is an Australian/New Zealander singer and songwriter born and raised in Japan. Primarily a guitarist, Levy's independent debut release in 2009 "Half A World Away" combines his love for pop songwriting and pays tribute to the guitar stylings of Eric Clapton. When seeing Jon live, listeners can expect to hear a cross between a gentle-voiced Sting singing songs penned by the likes of Johnny Cash and The Beatles.
About Dom Liberati
Dom Liberati delivers bass driven anthem rock with an earnest, aggressive and fresh approach. His infectious, stadium-sized hooks with pop sensibility have been compared to the likes of Jimmy Eat World, Foo Fighters and Kings of Leon. In 2011, Liberati's first official music video was released and "We Own the Night" went on to win two Los Angeles Movie Awards. Since then, he has gone on tour to promote his new album, The Good Hurt. He has collaborated with Grammy-winning songwriter Sunny Hilden (Sting, Ray Charles, David Archuleta), former UMG session guitarist Tony Solis (John Legend, Don Henley, An Endless Sporadic) and the Tiesto-favored DJ Fei-Fei. Liberati currently lives in Los Angeles and can be found frequently performing with his self-assembled custom basses at iconic music venues such as The Hotel Café, The House of Blues, and the Roxy.