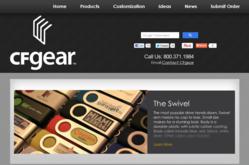 With all new customer-centric product offerings, and the site's simple usability, the new CFgear website is optimized for today's mobile marketplace and digital age.
Sioux Falls, SD (PRWEB) January 21, 2013
CFgear has revitalized its global website – Cfgear.com – to provide web users with a highly intuitive, graphically optimized design and a look that embodies the true spirit of the brand. CFgear.com features an easy navigational structure, and many user-friendly features which demonstrate CFgear's leadership in the Custom and Bulk Flash Drive markets. CFgear has long been a leader in the technology industry, particularly in USB flash drive designs, systems and functionality. The new CFgear website is a major component in the corporate goal of becoming a truly global USB technology powerhouse.
The all new CFgear.com invites visitors to visualize their many products, and encourages them to make well informed decisions about their potential projects. With all new customer-centric product offerings, and the site's simple usability, the new CFgear website is optimized for today's mobile marketplace and digital age. With all new educational pages, consumer based reporting , and in depth coverage of industry trends, CFgear encourages visitors to explore and discover more about their entire lineup of products, solutions and services.
"CFgear us a diversified brand, with exciting and innovative product offerings. Our new website at CFgear.com is simply an extension of our corporate values and mission. With true South Dakota spirit, we strive to achieve excellence through our range of USB and technology products, our service, and company as a whole." Said Scott A. Van Egdom, President/CEO of CFgear. "The insightful features we've created are dedicated to creating a rewarding user experience to our visitors around the world. The site will feature instant feedback sections where our users can provide us with valuable insights. These comments are invaluable to us, and are just one small part in enhancing our goal to become a real-time marketing machine which can thrive in a global marketplace. These fast paced, even instantaneous customer requests and feedback help us to improve the user-experience. The new website will enhance our business and brand value across multiple platforms and service areas." added Van Egdom.
A few of the new user interface enhancements to CFgear.com are:
Responsive, adaptive and intuitive design:
The new CFgear website was designed to have responsive design technology embedded into the coding, which will help visitors view and explore the website quickly and easily, whether on smart-phone, tablet, or computer.
Real Time Customer Feedback:
Ideas, feedback and reviews of CFgear products and services are posted on CFgear.com in real-time. The new website also features sections for users to post questions and feedback. These interactive sections are found regularly throughout the site, and allow CFgear unique access to the voice of their customers. This in turn allows CFgear to hear their views, offering previous insight into the competitive custom flash drive marketplace, which will help guide present and future business strategy.
Integrated Social Media:
Popular social media like Facebook, Twitter, YouTube and Google+ have been integrated into CFgear.com with a massive amount of space allocated for education and "edutainment" content. CFgear has attempted to create the most user-friendly educational site in the market space. Throughout the building phase, designers made it clear that the new CFgear.com was intended to offer not just products, but a culture based platform that could reach, educate, inform, and enhance the lives of visitors, customers, designers and researchers around the world. Site visitors can read the latest posts in our blog, and have the ability to engage with the worldwide CFgear community. CFgear.com also features an integrated "Share" function which encourages users to share links and products on their own profiles in all major social media outlets.
Customer-Centric and Friendly Features:
Visitors to CFgear.com will find a consistent look, feel and user experience across all pages in the site. This consistent visual identity and navigational structure work together to enhance the overall brand experience for CFgear as they move forward into a new digital age for their organization.
Founded in 2006, CFgear's mission is to empower it's clients with the information they need, and to provide them with quality techonology solutions. CFgear works with companies across the globe in any size from small businesses to Fortune 500 companies through it's website at http://www.CFgear.com. CFgear is a privately held company and is headquartered in Sioux Falls, SD. For more information on CFgear's new website, or to schedule an interview with Aaron Morford, or Scott Van Egdom, please call 1.800.371.1984 or email Aaron@CFgear.com