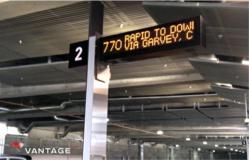 "It's nice to have a partner [Vantage LED] that cares as much about the project as we do." Scott Christie, Promotional Signs, Inc.
El Monte, CA (PRWEB) January 21, 2013
Billed as the largest bus facility west of Chicago, the new and improved El Monte Station at I-10 and Santa Anita Ave is entering 2013 bigger and better than ever. In addition to the large scale expansion and all new interior and exterior signage, the new station is using LED signs at each of the 29 bus bays in its new multi-level passenger terminal. The LED signs communicate scheduling, routes, and other related information to passengers using powerful but energy efficient LED technology.
"We provided all the signage for the project," said Scott Christie, VP of Promotional Signs Inc., "Wayfinding and directional signs, clearance bars, ADA signage, channel letters, the street pylon sign, and of course the 29 LED displays."
The station services thousands of passengers a day, and is a major hub for the LA Metro system. With that many travelers, communication is key for a successful operation and the new LED signs play a vital role. In addition to important route and scheduling information, they can display emergency information quickly and effectively to anyone at the terminals.
Promotional Signs Inc was chosen to supply all the signage, including the LED signs, because of their solid reputation and trust developed from previous municipal and government projects in the area. They have been serving the Southern California region for over 20 years.
"We're a family owned business," explained Christie, "Although we do many large projects like this, we support business of all shapes and sizes. I believe our experience and reputation have been key factors in our success."
They take a "one stop" approach to signage, offering a large variety of products and services for both interior and exterior applications. This includes ADA signs, wayfinding, architectural, channel letters, and custom built signage to meet the needs for any project. They also offer a wide range of services including, installation, permitting, design consultation and sign maintenance.
According to Christie, they utilized Vantage LED signs in the project because of the quality, value and care taken to make sure the end-user was going to get what they needed.
"Vantage sent a representative to the site prior to the installation to verify the specifications and make sure the LED sign would work perfectly for the project. It's nice to have a partner that cares as much about the project as we do," he said.
Vantage LED is a U.S. based manufacturer located in Corona, CA. Their innovative approach to LED sign technology has made them one of the fastest growing manufacturers in the industry. Founder and CEO Chris Ma was recently recognized as Southern California's top entrepreneurial business leader, winning the "Best of the Best" overall category at the Inland Spirit Awards for 2012. Their signs are used in a wide range of applications and can be found across the U.S. in places like New York's Time Square, and internationally in Puerto Rico and Jamaica.
The Station is using Vantage LED's 12.5mm Raven series displays mounted to pole supports custom fabricated by Promotional Signs Inc. The 12.5mm pixel pitch allows for sharper text and images, making the displays both affordable and effective. They shipped with Vantage LED's standard features including conformal coated power supplies, thermostatically controlled fans, and industrial Darwin ™ Control units.
"We understand the need for outdoor signage to operate well in a multitude of weather conditions, especially in transit applications like this," explained Ivan Perez, Vantage LED's on-site rep for the project, "The coatings protect against humidity, our thermal fans keep the display cool, and the Darwin™ controllers use Solid State technology to keep it running 24 hours a day 7 days a week."
The installation and implementation of the LED signs was completed in time for opening day and initial feedback on the signs has been positive. Passengers can navigate the terminal easily and know exactly where to go, assuring they will get to their final destination safe and on schedule.
"It was a great experience," said Christie "the displays were very easy to work with, and the support before and after the project has been above board, and professional."