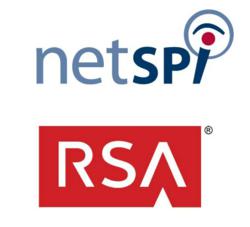 Deploying the CorrelatedVM and RSA Archer eGRC solutions together can help organizations better assess risk and provide a more preemptive approach to the threat of vulnerable software on the network.
Minneapolis, MN (PRWEB) January 20, 2013
NetSPI, a leading professional security services company, today announced it has joined the Secured by RSA® Certified Partner Program , establishing interoperability between CorrelatedVM™ Vulnerability Management Software and the RSA Archer® eGRC Suite. This certification signifies that an interoperable partnership has been established to help reduce risk and increase security for joint customers through interoperability for the collection of network and software vulnerability data.
NetSPI addresses the penetration testing and risk assessment needs of many of the largest most security-conscious U.S. corporations. And the powerful vulnerability data correlation features in CorrelatedVM, its in-depth penetration testing tools (both manual and automated), and the disciplined thoroughness and consistency of methodology that it brings to the vulnerability management challenge has set NetSPI's professional services well apart from its competitors; both in winning business and in maintaining long term customer relationships. Vulnerability data can come from many sources – network scanning tools, penetration testing activities, static and dynamic code analysis tools, manual testing efforts, Internet security alert services, and more. CorrelatedVM allows customers to centrally collect all of their vulnerability data from those many disparate sources and turn that mountain of data into a concise and actionable data set. Then it makes that actionable data fully manageable in an organized/programmatic way with sophisticated team-collaboration tools.
"We are pleased to further enhance power of CorrelatedVM for our enterprise customers who have already invested in or considering the purchase of the RSA Archer Threat Management solution," said Deke George, CEO of NetSPI. "Deploying the CorrelatedVM and RSA Archer eGRC solutions together can help organizations better assess risk and provide a more preemptive approach to the threat of vulnerable software on the network."
Vulnerability Management is the practice of identifying, classifying, remediating, and mitigating IT-related vulnerabilities that put businesses at risk. That includes all software everywhere on the network; from deep within network devices, on servers, in databases, on desktops, and on mobile devices. This is an overwhelming challenge given the explosive proliferation of software that is being installed in and continuously upgraded on networks today. NetSPI's professional services, managed under their CorrelatedVM software, address this accelerating problem head on.
About the Secured by RSA Certified Partner Program
The Secured by RSA Certified Partner Program is one of the largest and longest-running technology alliance programs of its type, bringing over 1,000 complementary solutions across more than 300 organizations together. RSA SecurID®, RSA® Access Manager, RSA® Adaptive Authentication, RSA Archer®, RSA® Digital Certificate Solutions, RSA® Data Loss Prevention (DLP) Suite, RSA® Hybrid Authenticators, RSA enVision®, RSA® Federated Identity Manager and RSA® Data Protection Manager Suite certification programs bring added assurance to customers that their solutions are certified as interoperable to help them achieve faster time to deployment and lower overall cost of ownership. The Secured by RSA Certified Partner Program reflects RSA's commitment to driving inventive collaboration across the industry and support standards-based interoperability with its information-centric security solutions to help protect information, identities and infrastructures. For more information, please visit http://www.securedbyrsa.com.
CorrelatedVM is available today. For further information please call 612.465.8880 or email rachel(dot)Anderson(at)netspi(dot)com.
RSA, EMC, Archer, SecurID and enVision are either registered trademarks or trademarks of EMC Corporation in the United States and/or other countries. All other products and/or services referenced are trademarks of their respective companies.