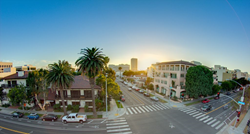 When I started ROC, I wanted to reinvent the office environment so these great minds could connect and generate innovative ideas without being distracted by day-to-day office management details.
Santa Monica, CA (PRWEB) January 21, 2013
Ron McElroy, CEO and founder of Real Office Centers (ROC), announces its newest location, ROC-Santa Monica located at 604 Arizona Avenue in the heart of Santa Monica's high-demand downtown market and Silicon Beach. Designed to appeal to today's young and tech-savvy entrepreneurs, ROC's latest shared office-style-workspace is now home to fast-growing media, technology and entertainment companies. The three-story, 44,260 square foot facility, last occupied by Google, has since undergone a multi-million dollar interior reconfiguration to meet the exact needs of its new occupants. Created with environmental sustainability factors in mind, ROC-Santa Monica will now have the capacity to house more than 200 socially conscious, shared-workspace environments with room for as many as 150 small companies.
"I'm tremendously excited that we are able to bring all of these creative minds together in one location so they can get real and get down to business," said McElroy. "We saw that there was a desperate need for this type of mutually supportive space in the creative surroundings of Santa Monica, especially with the Silicon Beach movement. Instead of each company having to find their own space, purchase their own equipment, hire support personnel, and work in an isolated work space, ROC surrounds them in an upscale environment where they have access to the best equipment and most creative minds in their field. Being together in this dynamic community will spark mutually beneficial creativity and collaboration that will foster start-up growth and reinvigorate companies looking for fresh ideas."
The repurposing of a facility with such a vast amount of usable workspace has been greatly anticipated due to the limited supply of creative office space within the West Los Angeles area. Amenities at ROC-Santa Monica include conference facilities, a kitchen, coffee bar, and top-of-the-line furnishings. Digital aficionados appreciate the screening room with its seating for 50, available bandwidth speeds up to 10 gigs up and 10 gigs down, and a state-of-the-art dedicated Digital Media Lab which includes a green screen, editing bays, and other production capabilities.
ROC Ventures provides a platform where up-and-coming companies, investors and universities can join together to innovate, back, fund, and engineer future success stories. ROC Santa Monica will also be home to venture capital firms, angel investors, and many start-up companies in which they will invest. The open-source environment allows these academics, investors and entrepreneurs to meet in a supportive environment where they can transform their brilliant ideas into capitalized companies.
The sixth addition to the ROC network means that the company can now offer office space and co-working space for rent in major California metropolitan markets from Downtown San Diego through La Jolla and three locations in Newport and Newport Beach. In addition to virtual offices, office space and co-working space, these locations are used extensively for events, seminars, conferences and remote education. ROC-Santa Monica will have three event zones capable of hosting parties, conferences, screenings and seminars. ROC provides a staff for each Center and handles day-to-day operations and facility management.
McElroy, a Commercial Real Estate Broker who has represented landlords like The Irvine Company, Prudential Realty, and Koll Company, also launched REMC-Real Estate Management Corporation which sets the standard for Class A buildings and premier office environments. After selling those fourteen sites to Synergy Workplaces he briefly retired, wrote a book, Wrong Side of the Tracks: A Memoir, and returned to the real estate market when he established ROC.
"I knew that today's young entrepreneurs want a different kind of environment to stimulate them and get their creative juices flowing. A standard office layout just won't do for them," concluded McElroy. "When I started ROC, I wanted to reinvent the office environment so these great minds could connect and generate innovative ideas without being distracted by day-to-day office management details."
Real Office Centers is an industry leader in developing shared office spaces for the innovative mind, creating environments that are both engaging and productive for up-and-coming entrepreneurs. Further information on renting space or hosting an event at the ROC-Santa Monica may be obtained by calling 310-450-ROCK (7625), sending an email to info(at)realofficecenters(dot)com, and visiting RealOfficeCenters.com.