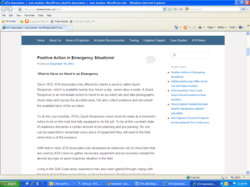 "The website is much more interesting, informative and user friendly now." said Bob Swint
Houston, Texas (PRWEB) January 20, 2013
ATA Associates, Inc., a forensic engineering company, announced the addition of a new blog to their website – http://www.ataassociates.com/blog/
The blog currently includes pertinent subjects such as Choosing an Expert, Truck Driver Turnover, Back to the Basics, an ATA Engineer's Tire Presentation and ATA's involvement in Coast Guard boat testing as well as updates on activities of ATA Associates' company and personnel. ATA intends to add new blogs on a regular basis to keep readers up to date on important facts and issues.
The blog section (click on the ATA Blog button in the upper right corner of the home page), is the latest in a series of updates and redesign features being added to ATA's website.
"The website is much more interesting, informative and user friendly now." said Bob Swint, Founder and CEO. "We keep adding new scientific equipment and techniques to improve the services we offer. The updated website explains the new technology we have and how it benefits our clients."
For additional information, contact Ken Krueger, ATA Associates, Inc. at 281-480-9847 or e-mail: kruegerk(at)ataassociates(dot)com.