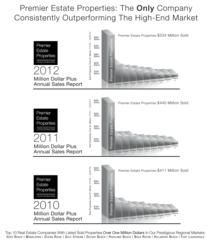 Florida (PRWEB) January 22, 2013
The leading South Florida real estate company, Premier Estate Properties, is proud to reveal their sales figures for the year of 2012. Currently, they are the only company that has consistently achieved more sales in excess of five million dollars; more than all other companies in their market place. In addition, their company increased their annual sales by 18% for 2012, which illustrates their leadership position in the million dollar-plus South Florida marketplaces.
Premier Estate Properties is the only brokerage firm with 42.8% in-house transactions over five-million, for the entirely of 2012. This clearly confirms their client's confidence in their marketing strategies and their commitment to luxury market segment. In total, they consummated $534 million in sales for 2012, and $585 million including their Southwest Naples Estate Properties office.
Premier Estate Properties' performance consists of the largest percentage of sold multi-million dollar properties, as well as an unprecedented number of record-breaking sales in their market place. Their reputation is world renowned for exceptional personal service and confidentiality. Currently, they dominate the high-end marketplace and lead the industry with an unsurpassed $1.2 Billion Estate Portfolio.
The firm is dedicated to providing their tradition of integrity, personal attention, and breakthrough innovation to exceed their client's expectations. Since their inception, Premier Estate Properties has provided the highest level of personalized service; matched and exceeded only by the highest level of performance. For more information, please visit http://www.premierestateproperties.com, and also http://www.naplesestateproperties.com.