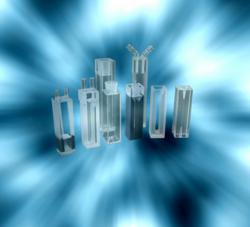 For over 50 years, NSG has been outstanding when it comes to its customer service, offering them an unmatched high-quality service and pricing for all of its products.
Farmingdale, NY (PRWEB) January 22, 2013
Accuracy and reliability. These are the factors that make the NSG Precision spectrophotometer cell very popular all over the planet. From constructing, manufacturing, cutting and polishing, fusing, assembling and inspecting, NSG Precision Cells has poured its passion into manufacturing a high-class, accurate and superior cell that surpasses all the competitors in the market.
For over 50 years, NSG has been outstanding when it comes to its customer service, offering them an unmatched high-quality service and pricing for all of its products. This is especially the case with their top-notch spectrophotometer cell line, helping scientists carry out their spectroscopy experiments with ease and perfection. NSG values has fostered and developed their relationships with all of their customers and are, bar none, the best cuvette producer on the market.
NSG Precision Cells is highly known for its dependability and consistency when it comes to its spectrophotometer cells quality. Its customers are assured that the products they receive have been hand-inspected and works with 100% accuracy. After being assembled, each cell is inspected by a qualified inspector. No product leaves the factory before undergoing NSG's rigorous inspection process. All inspections are performed in an ISO 5 clean room, to ensure that no particles will affect the final product.
One of the reasons that made NSG Precision spectrophotometer cells are the best in the market is that they are manufacturing their own raw material, which gives them 100% accuracy and an undeniable edge over the competition. When looking for the finest spectrophotometer cells, customers make the right decision and go with NSG Precision Cells.
Scientists and researchers prefer NSG's spectrophotometer cells for its highly accurate results. Customers will only need to test their samples one time. Accurate repeatability is paramount at NSG and Precision Cells spectrophotometer cells are made with only the highest quality quartz and glass materials. A standard cell is contains a PTFE cover(a synthetic fluoropolymer of tetrafluoroethylene, a non-reactive fluorocarbon solid which means neither water nor water-containing substances can wet it). To ensure the best optical quality optical polish with no defects, spectrophotometer cells are hand-made and inspected. For the highest tolerance and best bonding, NSG Precision Cells' spectrophotometer cells only uses fire fusion and thermal fusion, a technology used by only the most elite manufacturers. These methods provide adequate bonding and the resulting cells will not leak and/or break when used. No adhesives whatsoever are ever used on spectrophotometer cells. NSG's spectrophotometers cells are guaranteed to give you the best optical transmission and customers can choose between a variety of materials including ES(UV) Quartz, Optical Glass, IR Quartz, Borosilicate, Pyrex and others.
Many people who come to NSG's site may wonder "What makes NSG Precision Cells' spectrophotometer cells the most trusted in the market?" Simply put: quality, craftsmanship, ingenuity and the never-ending need to cater to customers' needs.
About NSG Precision Cells
NSG Precision Cells, Inc. was founded in 1958 and has been growing ever since. NSG Precision Cells, Inc. is a well established, highly regarded quartz manufacturer and we specialize in the manufacturing of quartz flowcells, quartz flow channel cuvettes, quartz microchips, quartz cuvettes, and other quartz optical products.