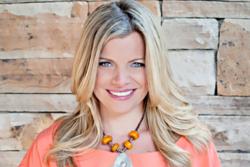 With online yoga classes, you can customize your workout to exactly what you want and need right now.
(PRWEB) January 23, 2013
YogaVibes, a leading distributor of online yoga classes, is incredibly honored to partner with Ashley Turner.
Elevating personal growth as a lifestyle, Ashley Turner, MA, MFT, is considered an innovator in the yoga industry, combining yoga, modern psychology, neuroscience and spirituality. Known for her charisma, candor, and accessibility, Ashley's online yoga classes elegantly weave together profound philosophy and practical life-changing guidance.
"Yoga is a personal practice and what you need changes every day," says Ashley. "With online yoga classes, you can customize your workout to exactly what you want and need right now. Many people live in areas where quality yoga instruction or variety is just not available. I chose to work with YogaVibes because of their integrity, support and commitment to each teacher, as well as the community at large."
YogaVibes is pleased to extend Ashley's teachings to a larger audience of yogis. Her online yoga classes offer a vigorous and inspiring Vinyasa flow experience:
Invigorating Morning Flow (92 mins.)
Begin with a luxurious opening sequence of two invigorating kriyas to wake up the physical and pranic bodies and flush out any stagnation or lethargy from sleep. Then, dive into a strong, comprehensive standing sequence of twisting and balancing poses to wring out every corner of the body. Leave this online yoga practice feeling energized, cleansed, clear, and awake for the day ahead.
Power Hour Shoulder Opening Class (67 mins.)
Shoulder openers will lead to the peak pose of Pincha Mayurasana (Forearm Balance) in this online yoga class. In this strong Vinyasa yoga flow, learn to internally spiral both hemispheres of the body, collect core power, and accurately align the shoulders in preparation for arm balances.
Power Hour: Build Charisma & Inhabit Your Full Potential (64 mins.)
Build charisma, awareness, and intuition in this online yoga video. This creative, expansive online yoga flow focuses on widening the physical and pranic bodies in every direction.
To find additional online yoga videos with Ashley Tuner, please visit Ashley's page on YogaVibes.
ABOUT ASHLEY TURNER
A yoga instructor, mind-body psychotherapist, author and Ordained Priestess, her best-selling DVDs include: Power Yoga, Yoga for Weightloss, Yoga Bootcamp and Yoga for Stress Relief + Flexibility. She recently released her first book, Aroma Yoga, and is the director of Montage Laguna's mind-body-yoga program where she leads monthly workshops.
She writes for Positively Positive and The Daily Love and offers free weekly training videos on AshleyTV. She's been featured on Martha Stewart Radio, Shape, Prevention, Self, Natural Health, Yoga Journal and Fitness.
Ashley leads transformative events worldwide and works with clients via SKYPE. To learn more about Ashley, please visit her website at http://www.ashleyturner.org.
ABOUT YOGAVIBES
Looking for the best online yoga classes? Look no further! YogaVibes.com is an online realm for high-quality, authentic yoga classes and instructional videos captured in a real studio with real students. YogaVibes offers a diverse selection of online yoga classes from the best yoga teachers in the world, making learning and living yoga easy in everyday life. YogaVibes' mission: To create a supportive, challenging, and welcoming online community of passionate and inspiring yogis.