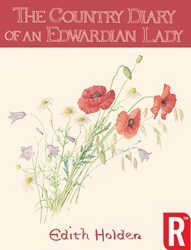 Arthur Klebanoff, CEO RosettaBooks, said, "This first iBooks Author project from RosettaBooks illustrates the power of the form to transform traditional illustrated books. This internationally appealing piece also ben
New York, NY - January 22, 2013 (PRWEB) January 22, 2013
The Country Diary of an Edwardian Lady, based on a 1906 hand-illustrated diary by noted British illustrator Edith Holden, sold millions of copies in its print editions. Designed to pique Holden's pupils' interest in nature, its merchandising campaigns have succeeded for decades, led by a paper goods line at Marks & Spencer in London.
Using Apple's digital book creation app, iBooks Author, RosettaBooks has published a beautiful new digital edition for iPad owners worldwide who can now enjoy the Diary in ways never before possible. In addition to spectacular four-color high-resolution art, the Multi-Touch edition features hundreds of pop-up pieces of information about poets, plants, and places Edith Holden visited and loved.
Arthur Klebanoff, CEO of leading independent eBook publisher RosettaBooks, said, "This first iBooks Author project from RosettaBooks illustrates the power of the form to transform traditional illustrated books. This internationally appealing piece also benefits from the worldwide marketing reach of the iBookstore."
The Diary includes an audio interview with Rowena Stott who inherited the Diary from her great-aunt. Stott made a deal in 1976 with a British publisher and agreed not to show the unpublished diary to anyone in exchange for £100. The following year, it became an international bestseller and was quickly followed by a worldwide merchandising program that continues to this day.
"I am absolutely thrilled to see The Country Diary of an Edwardian Lady in this digital edition. The vibrant and fresh colors of the original diary are beautifully captured on the iPad, and with the animation and the additional features it really comes alive. It is a completely new reading experience," said Ms. Stott.
Nicholas Durbridge, CEO of The Copyrights Group of London who represents the worldwide licensing rights for the Diary commented, "Even those fans familiar with the print version will be amazed at the sharpness and vibrancy of the artwork. The Diary comes to life as never before as an eBook".
The Country Diary of an Edwardian Lady is available exclusively on the iBookstore for $9.99: https://itunes.apple.com/us/book/country-diary-edwardian-lady/id577945448?mt=11
About RosettaBooks: RosettaBooks is the leading independent eBook publisher, responsible for such timeless classics as Brave New World, Slaughterhouse-Five, The 7 Habits of Highly Effective People, and the complete works of Winston Churchill. Publisher of ten Kindle Singles, including Ray Bradbury's The Playground, RosettaBooks has launched nine of them to bestseller status. For more information, please contact
Navjot Khalsa
Digital Marketing Manager
nkhalsa(at)rosettabooks(dot)com