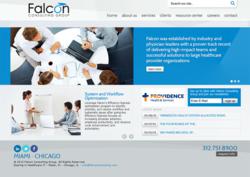 We are proud to hire and retain self-motivated, experienced staff who share our passion for healthcare informatics
(PRWEB) January 24, 2013
Falcon Consulting Group chose to team up with Idea Marketing Group to develop a new website that better fit their needs. Including a streamlined administration section and great visuals, Idea produced exactly what they needed plus a little more.
The new website was built on a wordpress platform which allows users, even those who are not tech-savvy, to be able to change and add content easily. This platform is a great feature for Falcon because in their industry there is constantly new information; knowing that, Idea has created a website that enables them to stay current in all angles of the business.
Falcons' website now also contains a set of scrolling images controlled dynamically with an intuitive system. Although it seems simple, the scrolling images are very visually appealing and allow visitors of the site to see multiple images without a cluttered page.
Partner of Falcon Consulting Group Brendan Downing is committed to serving leading healthcare providers with critical technology solutions and consulting services. Brendan says "The team at Falcon is dedicated to providing services with integrity, accountability, and complete transparency to our clients. We are happy to now have a website that also shows our dedication to our customers and their needs."
Falcon Consulting Group takes great pride in knowing that they lead their customers in up-to-date knowledge and services. With the launch of this new website they are able to easily update their clients, keeping them informed.
To view Falcon Consulting Groups new website please visit http://www.falconconsulting.com.