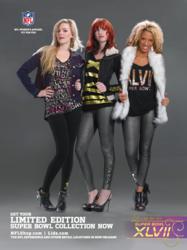 New York, NY (PRWEB) January 21, 2013
Meesh & Mia today announced that it has entered into a new licensing agreement with the National Football League to manufacture and market a collection of women's fashion apparel for Super Bowl XLVII and its participating teams.
Under the license, Meesh & Mia will design, manufacture and sell a fashion focused collection including jackets, vests, dresses and leggings mixed with details such as faux fur, crystal embellishment and snakeskin fabric. The apparel, available online and at major market retailers, features a stylish representation of the Super Bowl XLVII logo, as well as the logos of the game's two participating teams.
"We are excited to team with the NFL to offer its millions of female fans a unique, fashion forward approach to showing their love for the game," said Elizabeth Turley, president of Meesh & Mia. "The demand for licensed women's fashion for the sport market continues to grow and female fans are looking for more options that fit into their lifestyle. Now she will make a fashion statement when she shows up to watch the Super Bowl."
"We are excited to welcome Meesh & Mia to our roster of NFL licensees and work with them to give our female fans more stylish ways to show their love for their team and celebrate the Super Bowl," said Rhiannon Madden, NFL Director of Consumer Products.
Apparel showcasing the Super Bowl XLVII logo, as well as merchandise featuring the logos of the AFC and NFC champions, is available immediately. Orders for select items featuring the logos of Super Bowl XLVII and its champion can be placed immediately following the completion of the game. Super Bowl XLVII will be played at the Superdome in New Orleans on February 3, 2013.
Apparel is available on NFLShop.com, LIDS.com, MeeshandMia.com and other online retailers. The line will also be showcased at the NFL Experience Driven by GMC in New Orleans during the week of Super Bowl XLVII.
Visit NFLShop.com or MeeshandMia.com for more information.