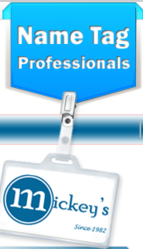 (PRWEB) January 21, 2013
Name Tag Pros is pleased to introduce their new metal employee badges and name tags as the latest and most prestigious addition to their product line-up. The name tags are available now with a minimum order of only one piece, although bulk orders are at a discount as also available at http://nametagpros.com/
The metal name tags are made from a lightweight .025 aluminum and come in white, silver or gold with a brushed finish on the gold and silver tags. The white version is suitable for printing custom designed multi-color logos and work best as badges. The metal badges and name tags are not simply engraved but imprinted using a modern digital process to render personalization and multi-colored designs at a low price.
The tags are available in an oval, rectangular, square or round shape and include a free pin backing. For an additional fee, a magnetic backing, clutch backing or bull dog clip can also be added.
There is a set-up fee of $19 for all new orders, not re-orders, and free proofs are included in the cost. Orders are typically produced and shipped in 1-2 days and there is never a minimum order required. Name Tag Pros also offers free shipping on any order over $100 and a satisfaction guarantee against any workmanship defects.
In addition to the new metal name tags, Name Tag Professionals also offers engraved name tags, plastic tags, reusable tags, executive tags, photo ID badges, window name tags and unique custom name tags with any shape, color or size possible.
Readers interested in ordering name tags for their business can learn more about the new metal tags and other styles at http://nametagpros.com/
About Name Tag Pros
Name Tag Pros is the online initiative of Mickey's Inc, with over 30 years of experience in the industry. The company is based in Mississippi and offers high-quality name tags and employee badges and low prices thanks to their modern digital printing process.
Name Tag Pros
444 Front Street
Laurel, MS 39440
(888)754-8337
http://nametagpros.com/