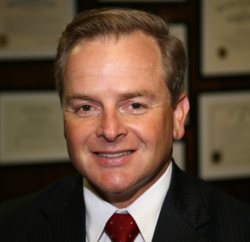 Gary Wilson serves a statewide client base from his offices in Maitland, Florida.
Maitland, Florida (PRWEB) January 20, 2013
2013 marks the fifth year in a row noted Central Florida employment attorney, Gary D. Wilson, has received top industry and consumer publication recognition. Wilson has been selected to three of the most prestigious lists of top lawyers in Florida.
The 2013 Florida Super Lawyers®
Gary was chosen as one of the top lawyers in Florida and will be recognized in the 2013 issue of Super Lawyers. Super Lawyers recognizes attorneys who have distinguished themselves in their legal practice by evaluating candidates based on their credentials, professional achievements, and other industry factors. Less than 5% attorneys are selected to the list of Super Lawyers®.
2013 Best Attorneys® In Florida
In addition to Super Lawyers, attorney Wilson has received distinguished peer recognition by being named to the 2013 listing of "Best Attorneys in Florida." The Best Attorney's listing is part of the regional coverage provide by Best Lawyers®, the oldest and most respected peer-review publication in the legal profession. A listing in Best Lawyers is widely regarded by both clients and legal professionals as a significant honor, conferred on a lawyer by his or her peers.
"Florida's Top Attorneys 2013" by the Wall Street Journal®
Gary was also honored with recognition by The Wall Street Journal® in its selection of "Florida's Top Attorneys for 2013". Wilson was named to the "Florida's Top Attorneys 2013" list in the December, 2012 issue of The Wall Street Journal published by Dow Jones & Company.
"Best Lawyers" for 2013 as published in the Orlando Magazine®
Finally, Gary was chosen by his local peers as among the finest in his field (employment and labor law), which will publish in the upcoming April issue of Orlando Magazine.
In addition to representing individuals and companies in employment-related matters, Wilson, a Certified Circuit Civil Mediator by the Florida Supreme Court, can mediate a broad range of civil disputes including contract issues, employment workplace matters, negligence cases, and commercial and construction litigation for Florida circuit courts and the U.S. Federal Court for the Middle District of Florida. To encourage parties to come to the bargaining table, Wilson charges parties less than his regular hourly rate to mediate cases. It is Wilson's belief that his fees should not be an impediment to resolution.
Gary Wilson is a co-founder of Wilson McCoy, P.A., an Orlando employment law firm practicing in the areas of employment and small business law. With their past experience in representing both employees and employers, Wilson and law partner Nathan McCoy are capable of assisting employees and employers in work matters and business-related litigation. Wilson McCoy serves a statewide client base from its offices in Maitland, Florida. Visit its website.