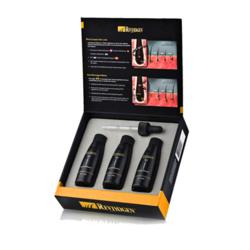 Anaheim, California (PRWEB) January 20, 2013
The DrSkinSpa.com web site has thousands of quality-ranked skin care beauty products listed in their inventory. This skin-care retailing giant is known for being doctor-owned and -managed in an industry that has a need for this kind of scientifically-based expertise and sales acumen.
DrSkinSpa.com boasts an A+ rating with the Better Business Bureau (BBB). The company has been BBB accredited since 2007 as a health organization dealing in professional anti aging skin care products.
DrSkinSpa.com offers their customers a free consultation, available through their web site. An esthetician will answer questions via e-mail or by telephone concerning their skin care needs
Customers will be excited to note that DrSkinSpa Adds Revivogen to Its Extensive Line of Skin Care Products
Revivogen is associated with Advanced Skin and Hair, Inc., a company that provides products for anti aging based on scientific research and new medical discoveries. Dr. Alex Khadavi developed Revivogen in 1999 and has been the in the forefront of anti ageing product designs for regaining hair loss ever since. Dr. Khadavi learned that dihydrotestosterone (DHT) is the very hormone leading to hair loss in both men and women. By blocking DHT with Revivogen, Dr. Khadavi was able to develop hair loss products for anti aging.
Revivogen is actually a three system anti ageing product. When used together, Revivogen Scalp Therapy, Revivogen Bio-Cleansing Shampoo, and Revivogen Thickening Conditioner all work to stop DHT production, the root cause of hair loss. These three products for anti aging will work to bring a youthful head of hair back to life. The Revivogen Scalp Therapy contains natural anti-DHT ingredients and hair growth stimulating ingredients. It places them deep into the scalp where nearly all of the DHT is produced within the body. Rubbing the Revivogen Scalp Therapy into the skin for 20 seconds each night is the most important step in this anti ageing product.
The Revivogen Bio-Cleansing Shampoo removes DHT from the surface of the scalp, preparing it for hair growth and renewal. Revivogen's Thickening Conditioner will plump up and add volume to the hair you have that is thinning and lifeless. The proteins in this system of anti aging products will provide dramatic, full results that will give your hair the body it needs to look and feel its best.
Revivogen is made up of natural active ingredients. It is a scientifically proven DHT fighting compound and the best anti aging products for your hair growth and fullness. There are very few anti aging products on the market that restore your hair growth with all natural ingredients. Revivogen is made up of gamma linoleic acids, alpha linoleic acids, and oleic acids that are all derived from vegetable oils. They have tremendous anti-inflammatory properties and are able to inhibit DHT. Azaleic acid is derived from whole grains and is an active fighter of skin conditions. Vitamin B6, zinc, and saw palmetto extract combine with the other active ingredients to decrease DHT levels and let hair follicles grown and thicken.
The Revivogen products for anti aging have no side effects that are usually seen with non-natural, synthetic ingredients. This three-step regimen is the star of hair anti aging products. It is a great anti aging product for women as well as men. Revivogen is a DHT blocker, the source of hair loss. It stimulates hair growth, is very well absorbed, has nearly no side effects, is completely natural, and is locally applied to the scalp, not ingested.