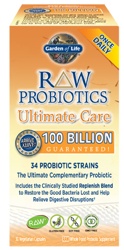 These new targeted probiotics are perfect to fill the needs of people that have special health challenges.
(PRWEB) January 21, 2013
According to the manufacturer, Garden of Life's RAW Probiotics, originally released in 2011, are raw, whole food probiotic formulas that contain over 30+ different strains of probiotics including strains from wild kefir and yogurt. By giving you over 30 different strains, Garden of Life feels that RAW Probiotics formulas are the most diverse probiotic supplement available today. These 30 different strains contribute to a high potency. In fact, with over 85 billion colony-forming units (CFUs) per serving, it is among one of the highest-potency probiotics available today.
This week, Health Food Emporium is spotlighting the four new additions to the Raw Probiotic line. These new products target more specific health issues. they are:
1. Ultimate Care Formula. This formula focuses on the bifido strains to repopulate your gastrointestinal tract with good bacteria when you need extra help after a period of illness or stress to your colon health. This formula has 100 billion active probiotics from 34 different strains.
2. Colon Care Formula. This formula contains 17 digestive enzymes and 33 different strains of probiotics to help with more frequent and comfortable bowel movements.
3. Vaginal Care: This formula contains scientifically studied strains to support vaginal and urinary tract health.
4. 5-Day Max Care Formula. This high potency formula has 400 billion probiotic cultures to help rebuild your digestive tract after antibiotics or other intense attack.
Gail Bowman says, "These are revolutionary new probiotic formulas to help us in the exact way that we need help to survive in this toxic world of antibiotics, pesticides and chlorine. I would recommend that every one take a good probiotic every day. There is no way to live on this planet and not come into contact with things that compromise your digestive system."
Health Food Emporium is an online health food store shipping worldwide, and specializing in whole food vitamins and supplements like the Garden of Life probiotics listed above.