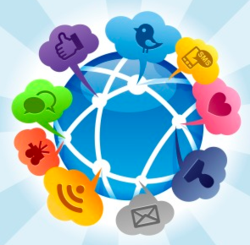 Facebook, Twitter, Google+ and all the rest of the social networks are great ways to feed an audience great information...These platforms are the best opportunity for building relationships with the audience...
Austin, TX (PRWEB) January 23, 2013
It's 2013, and it's hard to imagine, but some companies still haven't begun utilizing the excellent, free resources known as social media. When it all comes down to it, social media should be near the top of a company's priorities, and there should be no excuse for not having a social media presence. Trying to convince old-school management of this can be difficult, and it isn't easy getting the conversation moved from "Wouldn't it be great if…" to "Let's get the ball moving forward and get some social media management started." Here, Study Breaks College Media presents a compilation ways to sell social media and convince a company how necessary it truly is.
Think in Monetary Terms
Management thinks in dollar signs. They have staff to worry about all the other numbers, like daily metrics on the website and checking out the report on sales. When considering stepping up to the plate and speaking about social media in the work place, it's important that the emphasized priorities align with managements. One way to do this is by changing the topic about social media into how social media marketing can and will increase sales, increase revenue projections and decrease spending. For example, a company blog can assist with inbound customer service calls, increasing customer appreciation and decreasing customer frustration.
Calm down
It's true that trying to add sales, revenue and cost to social media sounds difficult right now. It all sounds nice and great in theory but trying to execute this is a whole new ball game. However, it's not impossible--it's all about wrangling up the right people and tools.
Know where traffic is coming from
There are tons of tools that provide great metrics regarding where people are coming from. Some are cheap and even free, and then there are some that can run as much as $10,000 a month. One can use tools such as BufferApp to track stats on posts you submit via Twitter. Using Facebook as a social media tool is great because it provides great insights that even break down demographics of the audience and the reach of content as far as impressions. There are also tools such as HootSuite that make presenting a large variety of important analytics to management simple and easy to understand. If the company has a blog (which they should), then sites such as WordPress and Blogger can offer a great idea of where traffic is coming from worldwide.
Tweeting vs. Blogging
Tweeting is great, but without a blog, it's not easy for an audience to have a reason to visit the website. It's important to have fresh, engaging content daily in order for people to have a reason to stop by. Facebook, Twitter, Google+ and all the rest of the social networks are great ways to feed an audience great information from the company website's blog, but these platforms are also the best opportunity for building relationships with the audience. Imagine a place that potential customers can go to and simply ask a question and have it answered in a timely manner. A blog is a great way to do this.
Social networking sites such as Facebook and Twitter are used very frequently by current and potential customers, prospects and competitors. It's important to connect with them, and look and listen at what they're talking about, because that's where it's easiest and simplest to respond to their needs. Companies around the world are now using social media as their go-to source for employee scouting, background checks, community awareness and even customer prospecting.
Social media is changing the way people purchase, do business and socialize, and things will never go back to the way they were—it's not going anywhere fast. This is the new world of social business and a company's (ROI) Return On Investment is plain and simple. "Will your business will be around in the next 5 years?"
Study Breaks College Media provides a one-stop solution for small businesses, providing them with big marketing strategies and delivering college students.
Study Breaks magazine is an award-winning line of monthly entertainment magazines for college students with a mission can best be explained through its slogan: We are college life. Published by Shweiki Media Printing Company, it is distributed in five Texas cities (Austin, Houston, San Antonio, San Marcos and Lubbock) and three southeast cities (Athens, GA; Auburn, AL; Columbia, SC). (Studybreaks.com)