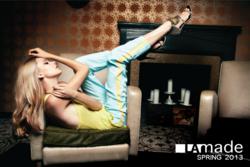 Los Angeles, CA (PRWEB) January 23, 2013
Southern California is known for many different things including its nice year-round weather and the many different parts of the city one can visit in just a single day. Every season, LAmade visits a new part of Southern California, embracing what each location has to offer. While the LAmade girl was last seen on a relaxed beach vacation for resort 2012, for spring 2013, she is heading up to West Hollywood, a vibrant and dynamic city, made up of nearly two square miles of the hottest entertainment, dining, and shopping venues in the Los Angeles area. It is where rock & roll meets fashion, art merges with lifestyle and everyone is free to be unique. West Hollywood, bordered on the north by the Hollywood Hills and only twelve miles from the Pacific Ocean, is often referred to as "the creative city."
LAmade's chief designer resides in West Hollywood, and took this city and its surroundings as her main inspiration for LAmade's spring 2013 collection. While previous LAmade collections have focused on a more classic and sophisticated look, the spring 2013 collection offers a sexy and more contemporary look, inspired by the West Hollywood lifestyle. When it came time to photograph the collection for a look book, LAmade's designers knew that Palihouse, a luxurious long stay property, was the ideal location for it. Palihouse, located just off the Sunset Strip, is a boutique hotel infused with stylish comforts and timeless traditions, everything West Hollywood strives to be. Along with being a "home away from home", Palihouse is also a hip bar and lounge, where many locals come to enjoy the ambience. This venue only seemed the most appropriate to shoot LAmade's spring 2013 Look book since the collection embodies sophistication and style.
With color blocking, bold stripes, and macramé being significant trends of spring 2013, LAmade created pieces embodying all of those trends, adding the LAmade aesthetic to all of them. The macramé group of the collection isn't your "grandma's sofa back-covers", but delicate spider thin threads and body hugging styles that are sexy and classy. Color blocking is seen frequently throughout the collection embracing the soft luxurious fabrics LAmade is known for and bold and bright colors that are front and center for spring. From a color blocked "muscle" tee to a color blocked three quarter sleeve shirttail dress, the spring 2013 collection brings out the sexiness every girl has but still embraces the classic and comfortable taste necessary to feel beautiful in one's skin.
LAmade has also recently enlisted a new marketing and digital staff to launch a brand new e-commerce website in March 2013. This destination will offer an optimal user experience from customer service and site navigation, to product details. The website will also include a blog updated by professional fashion editors providing all of the latest fashion news, trend alerts and pairing ideas. With social media becoming crucial for brand awareness, the site will offer future promotions heavily focusing on engaging the fans through various innovative marketing initiatives on Twitter and Facebook.
LAmade's new hub is a culmination of the combination of branding and e-commerce. With the new site, customers will have the opportunity to immerse themselves in the brand. The website will carry the complete line while their other retailers will carry select items. LAmade expects to triple the online sales by the end of the year. "I am very optimistic about the brand's future and I am sure we will be doing great in 2013," say Jack Chang, CEO of LAmade.
About LAmade Clothing
Embodying the lifestyle of Southern California since 2004, LAmade is influenced by music, travel, vintage clothing, real people, and everyday life; the LAmade collections are unique and understated. Perfect basics and novelty pieces are designed with attention to fit & detail, emphasizing impeccable quality and modern sophistication. The LAmade aesthetic offers classic feminine items that can evolve with any wardrobe. The line is ever-changing with new sights, sounds, colors, prints, and patterns; always breathing new life into the collections, these inspirations give LAmade a raw and real sense of strength and presence. With LAmade's prescient perspective, it follows the fashion of today, making sure every piece translates into the trends of tomorrow. The LAmade brand includes women's, maternity, kids, and baby apparel. It is the ultimate contemporary fashion label and can be found in over 1,000 boutiques worldwide, select retailers such as Neiman Marcus, Nordstrom, Lord & Taylor, and online.
If you want to inquire further information about LAmade, or request for a copy of the spring 2013 lookbook, please contact LAmade at 213 688 9790 or via email alexv(at)lamadeclothing(dot)com or visit LAmade's official website: http://www.lamadeclothing.com