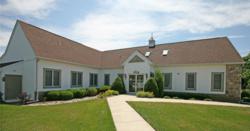 (PRWEB) January 20, 2013
Edward A. Marcus, D.D.S., of Floral Vale Periodontics & Implants, P.C. now offers a bone graft procedure to augment the jawbone prior to placing dental implants. Teeth naturally stimulate the regeneration of the jawbone. If teeth are missing due to decay, gum disease or even an accident, the jawbone in that area is no longer being stimulated. Unless teeth are replaced, the jawbone will continue to deteriorate over time, and there may not be enough available bone to hold an implant.
There are different types of bone graft material used for these procedures. The type of bone graft that takes bone from the patient's own body is called an "autogenous" graft. This graft is taken and then immediately used, so it is considered "live." This type of graft is the most invasive due to the secondary surgical bone harvest site. Most dental practitioners today utilize pre-packaged, sterilized bone graft materials from bone banks. These bone bank "allografts", as they are called, are screened and highly processed for safety. "Xenografts" are from a non-human bone bank. Lastly, there are a small number of synthetic graft materials available. These pre-packaged grafts allow the dentist to perform the grafting procedure without requiring the patient to have a second surgical site.
No matter what type of bone graft is used, an incision is made in the area where the bone needs to be augmented. Next, the graft is installed, and a growth factor may be placed with the graft to promote faster healing. Special collagen membrane blankets are usually needed to contain the graft material and prevent soft tissue ingrowth during healing. Finally, the area is carefully sutured back together.
After the bone graft, a patient is given antibiotics and required to maintain a soft diet along with avoiding chewing over the operation site for a period of time to help with healing. It's important to have no pressure or movement on the grafted site during healing as movement interferes with bone formation. The graft will integrate with the existing bone over time. The bone must heal before dental implants can be put into place, though sometimes the implant insertion and bone grafting procedures can be performed simultaneously. Dental implants provide a long-term replacement for teeth that have gone missing. Information on implants and bone grafting is available at http://www.mercerbucksperiodontist.com.
Floral Vale Periodontics & Implants, P.C., is a periodontal practice offering patients personalized dental care for the Bucks County area in Pennsylvania. Dr. Marcus received his undergraduate and dental education at Temple University where he graduated ranking first in his class. His post-doctoral training in Periodontics and Fixed Prosthodontics was completed at Temple University School of Dentistry. Dr. Marcus is one of only a handful of dentists in the United States that holds American Dental Association accredited specialty certification in both Periodontics and Prosthodontics. Dr. Marcus has many years of experience in dentistry, and is part of one percent of dental professionals providing the most recent FDA cleared laser procedure for gum disease and periodontal treatment. To learn more about Dr. Edward A. Marcus and his dental services visit his website at http://www.mercerbucksperiodontist.com and call (215) 600-4962.