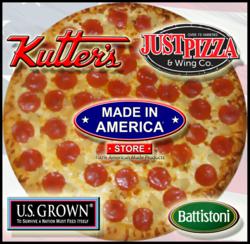 Battistoni, an artisan producer of the best-tasting premium dry-cured specialty meats, is offering a 'Taste of Tourism' of an old world dining experience right in your own home
Elma, New York (PRWEB) January 21, 2013
Consumers looking to keep their "Made in America" pledge are probably having a hard time finding everything made in the U.S.A. as not too many products are 100%. The Made In America Store offers four products that when combined, make an all American made pizza.
The Made In America Store brings vendors far and wide to offer over 3,500 products that are guaranteed to be 100% U.S.A. made.
According to StatistcBrain.com, there about 70,000 pizzerias in the United States and account for $32 billion in yearly revenue. Plain and simple, Americans love their pizza. Just Pizza, Battistoni, U. S. Grown and Kutter's Cheese are the American companies that have met with the Made In America Store to come up with the ingredients.
Battistoni brings their signature Classic 7 Ounce Pepperoni Stick. The twist link, traditional style pepperoni is made with edible casing and then slow dried. Battistoni was established in 1931 bringing years of experience resulting in an old world recipe.
"Battistoni, an artisan producer of the best-tasting premium dry-cured specialty meats, is offering a 'Taste of Tourism' of an old world dining experience right in your own home," said a Battistoni Representative.
U.S. Grown is New York local that grows, cans and distributes their own homegrown, American vegetables from their own farm. U.S. Grown brings their recipe for Pizza Sauce. The tomatoes, spices and ingredients are all grown on their location.
Looking for 100% American made Pizza Sauce? Visit the Made In America Store to order yours today.
Western New York is known for their food, sports culture and cold, wintery weather. Part of the culture of Buffalo is the numerous pizzerias and bars. Just Pizza has been a Western New York pizzeria since 1992, offering local businesses and families pizza. Just Pizza evolved from a small corner pizza shop to a leading supplier of pizza products. The renowned pizza place now offers Pizza Dough Mix at the Made In America Store. The Pizza Dough Mix will make two full 16 inch pizza by just adding water.
Lastly, the Made In America Store offers a wide variety of cheeses from Kutter's. Kutter's Cheese Factory Store is a traditional cheese factory outlet store located in Corfu, NY, approximately 40 miles due east of Buffalo, New York. The factory began in 1923 with the arrival of German immigrant Leo Kutter and moved to Corfu in 1947. Since then under the leadership of his two sons Anthony and Richard, three generations of the Kutter family has continued this cheese making tradition.
The Made In America Store is the only brick and mortar store that sells 100% made in the United States products from over 350 vendors. Consumers can visit http://www.MadeInAmericaStore.com or call 716-652-4872 to get more information or shop our catalog of over 3,500 items. Both Active Duty Military Personnel and U.S. Military Veterans receive a 10% discount every day. Followers of the "Made In America" movement can keep updated with the Made In America Store through Facebook, Twitter, Google+, Pinterest, FourSquare and even their own blog on Wordpress!