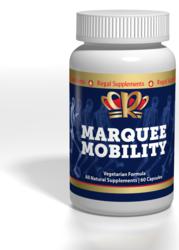 One-third of adults report having joint pain from one time or another, with knee being the most common complaint.
Valley Cottage, NY (PRWEB) January 23, 2013
In its second new product to hit the market in as many weeks, Regal Supplements, a quickly growing distributor of ZEO Health Products and other natural supplements, announces the release of natural joint supplement, Marquee Mobility to the market.
Marquee Mobility offers immediate relief to stiff, inflamed and painful joints with their all-natural product. According to WebMD.com, about one-third of adults report of having joint pain from one time or another, with knee being the most common complaint. There's no question the older one gets, the more common it is to have joint pain.
The breakthrough Marquee Mobility is an all-natural supplement that's easy to absorb. When the product is easier to absorb, it means the product is fast acting in getting relief to joints. Once Marquee Mobility is digested, crystalloid electrolytes carry the supplement to the cells for maximum efficiency and effectiveness.
The natural ingredients of this all-natural joint and mobility supplement include Boswella, curcumin, ginger root and gingerols. Both Boswella and curcumin both help with pain relief and anti-inflammation while the benefits of ginger have been well documented for a long time.
The introductory price of this new, all-natural joint supplement starts at $49.99 for one bottle, but when buying multiple bottles, the price of this all natural supplement can decrease to as little as $39.99 per bottle.
About Regal Supplements and ZEO Health: Regal Supplements distributes natural and high-quality supplements concerning Joint & Bone Health, Energy, Immunity Health and Anti-Aging Regal Supplements is also a distributor of ZEO Health's natural Zeolite dietary supplements, which were recently proven by a scientific study to be the best zeolite supplements on the market..