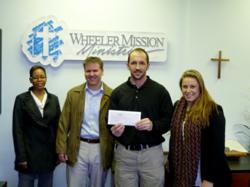 Indianapolis, IN (PRWEB) January 21, 2013
The employees of Fifth Gear's Indianapolis headquarters have selected local Wheeler Mission Ministries to support in 2013. Throughout the year, Fifth Gear employees will volunteer time, contribute funds, and create awareness for the social services organization. Well-known by local citizens, Wheeler Mission provides critically needed goods and services to the homeless, poor and needy of central Indiana. The organization currently offers daily meals and shelter for men, women and children while also providing rehabilitation programs for addictions. Founded in 1893, Wheeler Mission is the oldest continuously operating ministry of its kind in the state of Indiana. Employees selected Wheeler Mission as their organization of choice through an online vote.
Fifth Gear's Community Giving Campaign was launched in early December with a welcome from Wheeler Mission Marketing Director Brian Crispin who shared the organization's story and the many priceless ways the ministries assists those in need. During the month of December, employees of Fifth Gear participated in various fundraising events leading up their annual holiday party. Many local area businesses were involved in helping provide items for the events. Every dollar the employees raised was matched by the company, bringing the total contributed to over $3,500. Representatives from Fifth Gear recently presented their donation to Wheeler Mission and were able to tour the facility to learn how the donations help the mission.
"We are currently serving roughly 1,000 meals per day between our five residential locations. With the cost to serve one meal falling around $2.25, Fifth Gear's donation helped fund more than 1,570 meals to be served to homeless men, women and children," explained Crispin.
"We believe in giving back to our community," stated Fifth Gear President Matt Konkle. "One way we can do that is by supporting organizations that make a difference in people's lives."
Additional company activities are planned in the coming months to provide blankets and canned goods to the organization. For more information about Fifth Gear's involvement in the local community, visit the company's Facebook Page.
###
About Fifth Gear
Fifth Gear (http://www.inFifthGear.com) provides outsourced order fulfillment, contact center services, retail technology and marketing services to specialty retailers and manufacturers of consumer products. The Company serves as a single source partner to its clients, providing access to the industry expertise, infrastructure and technology they require to drive revenue growth. Fifth Gear is privately-held and headquartered in Indianapolis, IN, with additional locations in Louisiana, MO, Moberly, MO and Hazle Township, PA. The Company serves over 75 ecommerce and catalog retailer brands today and continues to expand its portfolio of unique offerings for its multichannel retail clients.
About Wheeler Mission
Wheeler Mission Ministries is a non-denominational, Christian, social services organization, which provides critically needed goods and services to the homeless, poor, and needy of central Indiana without regard to race, color, creed, national origin or religion. Wheeler Mission is not a church, but does cooperate with many different churches that are concerned about poverty and homelessness in the inner city. With eight locations, dozens of ministries, a budget of $7.15 million, and about 120 employees, Wheeler is also the largest and most diverse ministry of its kind in the state.