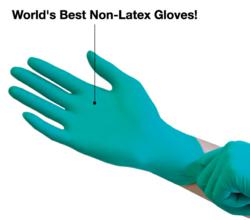 We believe SUPERFIT neoprene exam gloves are the world's best non-latex gloves.
Sunnyvale, CA (PRWEB) January 19, 2013
Today AD Surgical announces the release of SUPERFIT, a powder-free examination glove that is made from neoprene (polychloropene). SUPERFIT exam gloves contain no latex proteins and are safe for latex-sensitive (Type l) and chemical-sensitive (Type lV) health care professionals and patients.
SUPERFIT's proprietary formulation allows it to truly resemble the fit and feel of natural rubber latex. Compare to nitrile gloves, SUPERFIT exam gloves provide superior fit and comfort, higher elasticity and elongation, higher resistance to alcohol and better ozone resistance. SUPERFIT also offers the following outstanding features: ultra-thin for superior tactile sensitivity, latex-free, powder-free, ambidextrous, polymer coated for easy donning, textured grip, and non-sterile.
"Our neoprene gloves provide excellent comfort and fit, with elasticity and memory very similar to natural rubber. They also provide excellent barrier protection due to their high strength and durability," said Dr. Brian Tang, President of AD Surgical. "We believe SUPERFIT neoprene exam gloves are the world's best non-latex gloves, and we are confident that you'll agree once you try them on."
SUPERFIT are available in five sizes (extra-small, small, medium, large and extra-large) in boxes of 100 gloves. Each box is color-coded for easy size identification. All SUPERFIT examination gloves meet the strict requirement of FDA regulations. For more information or to purchase SUPERFIT, please visit the AD Surgical website http://www.AD-Surgical.com or contact customer service at (888) 841-8481.