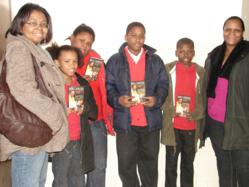 This play inspires students through live theater to believe in themselves and reach their potential through hard work, determination and education!
Baltimore, MD (PRWEB) January 22, 2013
The Columbia Center for Theatrical Arts (CCTA) will present free performances of its play, "Ben Carson, M.D.," next month for over 2,500 Baltimore City Public School students. Shows will be held on February 21 and 22, 2013 at the Lake Clifton Campus in Baltimore, MD.
"Ben Carson, M.D." is a CCTA original production written by Carole Graham Lehan and adapted from Dr. Carson's books "Think Big" and "Gifted Hands." It tells the story of Dr. Ben Carson. Raised by a mother with a third grade education, Dr. Carson overcame many hurdles to become a world-class pediatric neurosurgeon with a commitment to inspire people to be the very best they can be.
Now its tenth year, the program offers students the opportunity to discover theater while absorbing the play's important messages on the value of good character, hard work, and education in one's life.
The program is sponsored in part by the Baltimore City Public School System, Carson Scholars Fund, Delaplaine Foundation, Maryland State Arts Council, Wells Fargo, Whiting-Turner Contracting, Wright Family Foundation, an Anonymous donor as well as individual donations. In addition to the performance, attending schools receive free bus transportation to and from performances as well as a classroom set of Dr. Carson's autobiography, "Gifted Hands."
For more information, contact Carmen Samuel at Carmen(at)CCTArts(dot)com or 410-381-0700.
ABOUT CCTA
The Columbia Center for Theatrical Arts (CCTA) is a well-respected arts nonprofit with over 40 years of experience and service to the youth of the Baltimore-Washington area. It was founded in 1972 by Toby Orenstein with a mission to educate through the arts by creating theatrical experiences that inspire thought, action, creativity and change. CCTA serves approximately 30,000 individuals annually with a CONSERVATORY program of classes, camps and workshops; THEATRICAL PRODUCTIONS for schools; and an OUTREACH PROGRAM that makes theatrical experiences accessible to students who are often excluded from mainstream arts programming.