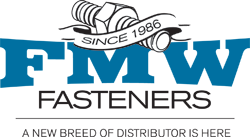 Houston, Texas (PRWEB) January 21, 2013
Now available for immediate shipment, a complete line of tamper resistant security screws in alloy steel and stainless steel. Products include torx® tamper resistant, hex socket, slotted one way, drilled spanner and notched spanner machine screws and tapping screws. All security screws are manufactured domestically. Made in the USA.
FMW Fasteners also offers free shipping on orders over $25.00 and flat rate $5.00 shipping on orders under $25.00.
FMW Fasteners is your online source for premium fastener products, to include anchor products, nuts, bolts, socket products and screws. Founded in 1986 in Houston, Texas, FMW Fasteners stocks premium products by Brighton-Best, Simpson Strong-Tie Anchor Systems, ITW Buildex, Intercorp, Toggler® Anchor Systems, FastenMaster and many more. For more information, visit http://www.fmwfasteners.com or follow FMW Fasteners for updates and promotions on Twitter, Google+ and Facebook.
# # #