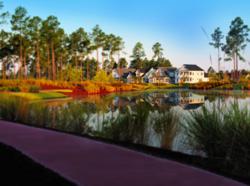 (PRWEB) January 29, 2013
Economists will tell you that in 2007, the real estate bubble burst worldwide. Apparently, nobody bothered to tell Brunswick Forest that.
The master-planned, 4,500-acre community off Highway 17 in Leland was launched that fateful year, and it has seen nothing but success every year since. As of December 2012, in fact, sales are up 25% over 2011.
What makes one community thrive in an otherwise flat-to-declining global real estate market? Jerry Helms, Director of Sales & Marketing for Brunswick Forest, offers several explanations.
Not Just A Place To Live; A Place To Live It Up
"We sold over 200 properties in 2012," says Helms. "We have [also] welcomed 950 families in the community's first five years. They continue to be our best sales tool. Happy homeowners who are already living the Brunswick Forest lifestyle consistently refer their family and friends. It doesn't get any better than that."
Helms points to that ready-and-waiting-for-you lifestyle as one of the keys to the success of Brunswick Forest's Wilmington, N.C., neighborhoods. "We now live in a world where seeing is believing," he says. "Here, you don't just hear about planned amenities; you get to experience them from day one."
The considerable amenities that make up these thriving Wilmington, N.C., neighborhoods include, but are not limited to:

Cape Fear National, a visually stunning 18-hole golf course
An 18,000-square-foot Fitness & Wellness Center that includes indoor and outdoor pools, exercise equipment, fitness classes and gathering spaces
Five hard-surface, lit tennis courts
Miles of walking and biking paths throughout the community
The River Club, where residents can launch a kayak, canoe or small fishing boat
"These are already in place, but it's not a stagnant package," says Helms. "People want an active adult community, and we are continuing to add facilities and programs to supplement what is here today."
Helms continues: "Most Brunswick Forest owners are not buying property to hold as an investment; they are purchasing it to make it their home. They tend to move in right away, or build within a year or two, as opposed to the five-plus years some other developments see. That makes ours a vibrant, active community."
Other competitive draws of this master-planned community include proximity to downtown Wilmington and area beaches, as well as The Villages at Brunswick Forest, the on-site commercial center that includes immediate access to a variety of healthcare specialties, a full-sized supermarket, restaurants, shops and offices. "The Villages is another remarkable success story in its own right," says Helms. "It, too, has defied local and national trends by having demand considerably outpace supply. As soon as we plan a new building for The Villages, we quickly fill that space and accumulate a waiting list, even before we break ground."
When The Market Speaks, The Developer Listens
Another unique aspect of Brunswick Forest is its extraordinary responsiveness to the market's desires. "We find out what people want, and that is what we build," summarizes Helms.
He points to the newly released community, Park Landing, as an example of that philosophy. "We saw a strong market for the $250,000 to $300,000 range," explains Helms. "People want all of the finishes of a grand home, but in a smaller footprint and without the maintenance. As a result, we introduced a price point and style of living we had not previously offered, and the overwhelming response speaks for itself."
Overall, Brunswick Forest offers a pleasing mix of home styles throughout its Wilmington, N.C., master-planned community, including townhomes, single-family homes and premium golf course lots on which people may build custom homes. This variety of offerings, combined with the robust, fully realized amenities package, has made Brunswick Forest a "must-see" property at national real estate shows. Helms says Brunswick Forest has continued to market itself nationally. "We've created a strong brand that attracts attention," he explains. "People have been very impressed when they come see it for themselves."
Building On Established Momentum
Allowing the market to dictate the inventory and keeping the active lifestyle going strong is a strategy that the developer will continue into the years to come.
"Our goal for 2013 is to continue to build off the success we saw in 2012," says Helms. "We are already putting in new infrastructure and neighborhoods to have homes and home sites ready to meet demand."
Also boding well for the coming year is the combination of low construction costs and low-interest rates. "It's the first time in 45 years of real estate history that this has been the case," says Helms. "It's truly an advantageous time to buy, because while still comparatively low, building costs are starting to climb."
A final reason for the success of Brunswick Forest's thriving Wilmington, N.C., neighborhoods, says Helms, is the exceptional service that prospective and current homeowners enjoy. The 11 sales consultants are lifestyle experts, not only on Brunswick Forest, but also on the surrounding areas. A support staff of 15 people backs the sales team, all easily accessible to clients in a beautifully appointed $5-million Welcome Center. The quality of the development, in fact, can be felt when you walk through those doors, and it speaks volumes about the commitment of the developer.
"We are here for the long haul," says Helms. "We have made the investment upfront and we have the financial backing to ensure Brunswick Forest remains a solid, stable community in the future."
And that reason for the Brunswick Forest boom just might be the biggest boon to buyers.
About Brunswick Forest
A master-planned community in Wilmington, N.C., Brunswick Forest offers luxurious town homes and single-family homes, as well as a wealth of amenities within walking distance.
In The Villages at Brunswick Forest, residents can find convenient shopping, dining and access to medical care and other services, just outside their doorsteps. Centrally located, Brunswick Forest is also just 10 minutes away from historic downtown Wilmington, N.C., as well as 30 minutes from pristine beaches. Nestled within 4,500 acres of heavily wooded areas, residents of Brunswick Forest can enjoy the tranquility of the great outdoors just as much as they enjoy a peaceful night in.
Truly a community that offers something for everyone, homeowners can choose to reside in an upscale estate, a low-maintenance patio home or everything in between. The options are endless for building a lifetime of memories inside one of the cherished homes of Brunswick Forest.