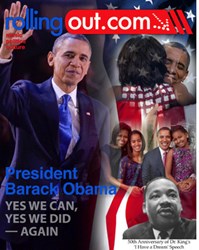 "Things are moving so fast in race relations. A Negro could be president in 40 years," Robert Kennedy.
Atlanta, GA (PRWEB) January 21, 2013
President Barack Obama's second inauguration is rich with both symbolism and irony. Obama was elected president 40 years after the assassination of Dr. Martin Luther King Jr., and 40 years after Sen. Robert F. Kennedy appeared to be the only white politician in America who could envision an African American occupying the same Oval Office that his brother, John F. Kennedy, once did.
"Things are moving so fast in race relations. A Negro could be president in 40 years," Kennedy said one week before his own assassination. "There is no question about it. In the next 40 years, a Negro can achieve the same position that my brother has."
Rolling out's editor-at-large Terry Shropshire writes a compelling piece that highlights the significance of the upcoming 57th Presidential Inauguration and the 50th Anniversary of the March on Washington where King delivered his iconic "I Have a Dream Speech."
This week's issue of rolling out is the complete guide to inaugural activities, cultural institutions to visit, as well as highlights the power brokers in D.C.
Visit rollingout.com to read the interview in its entirety. Also, be sure to click on "Inauguration Guide 2013," the digital companion to the special issue in the publication.
ABOUT rolling out MAGAZINE/MEDIA
Rolling out, the nation's largest free urban weekly, is a digital and print magazine that focuses on the black experience in response to entertainment, politics, fashion, culture, sports and lifestyle points of interest. Headquartered in Atlanta, rolling out is positioned as the voice for the African American experience, using its newspaper as a platform in the marketplace to express urgency for education reform, and to document entrepreneurial endeavors and other relevant issues in the Diaspora. For information on rolling out, please log on to http://www.rollingout.com.