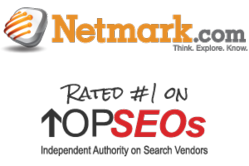 Netmark continues to grow and with an eye on success and quality, Netmark will continue to see success.
Idaho Falls Id (PRWEB) January 19, 2013
Netmark named the Best Search Engine Optimization Company by topseos.com. Including being ranked as the number one Search Engine Optimization Company, Netmark also holds numerous other top positions by topseos.com, including Best Enterprise SEO Company, Best Social Media Marketing Company, Best Ecommerce SEO Company, Best Landing Page Optimization Company, Best Conversion Rate Optimization Company, and Best Site Audit Company. Along with these prestigious awards, Netmark is listed as second Best Pay Per Click Management Company, second Best Link Building Company, and the third Best Reputation Management Company.
Netmark has been in business for over six years conducting internet marketing business. Netmark started in 2006 with Chad Heath, Josh Dalton, and Nate Hawkes working out of a garage in South Eastern Idaho. Since that time Netmark has grown into a company with over sixty full time employees, a corporate office, and developed intuitive SEO software. Netmark focuses primarily on search engine optimization with a keen eye on focused keyword optimization and solid "white hat" linking practices.
Topseos.com is an independent authority that assesses internet marketing companies. topseos.com evaluates companies according to five different criteria:
1. Needs Analysis – topseos.com first calculates a company's ability to properly and systematically identify the problems and needs of a potential client. It is obviously important to know what a website might need as potential work before hiring an internet marketing company to work on the website.
Netmark uses several tools and has developed unique software to evaluate websites and quickly knows the major areas of focus that will need to be improved to help a company increase their business.
2. Keyword Analysis – One of the major criteria that topseos.com focuses on is an internet marketing company's ability to properly assess both the current successes a website is experiencing with their keywords and what additional keywords should be targeted to effectively grow the business and funnel qualified traffic into the website.
In an effort to best understand the ranking factors that determine the top position of a search engine result page and what a website must do to possess that ranking, Netmark has developed software specifically designed to look at external ranking factors of the keywords and the websites that rank for the keywords. Netmark looks at the number of backlinks top websites have that rank for a given keyword, the social media interactions, such as "likes", shares, and retweets, and other benchmarks to gain an intuitive insights into determining scope of work for any given search engine optimization campaign.
3. On-Page Optimization – Another critical area in the success of a website is tied directly to the on-page keyword optimization. On-page keyword content was the one of the major emphases of Google's Panda update that rolled out two years ago. Due to the importance of on-page content and optimization, topseos.com looks closely at the scope of work that should be completed during an SEO campaign and evaluates search engine optimization companies on their ability to gauge the work needed and their execution of the work after scope is properly identified.
Netmark prides itself in working diligently with identified keywords ensuring that core website pages are properly optimized for the best ranking performances, as well as keeping an eye on new content generated for a company's website. With Google taking more of an interest in a website's content, making sure that new work is always properly optimized and especially making sure that it is not overly optimized is of high importance.
4. Off-Page Optimization – There was a time that Google's algorithm was entirely focused on the link value pointed into a website. Those times have passed and now it is more complex, but it still remains perhaps the single greatest metric in determining a website's overall ranking ability. topseos.com knows this and does a critical assessment of an SEO company's link building profile and practices when evaluating. topseos.com does not condone "black hat" SEO nor recommend "black hat" SEO companies.
Netmark is one of the best link building companies available on the internet. Since the release of Google's Penguin update, linking has become a hotly debated subject within the search optimization community, and it is becoming increasingly difficult to strike a balance between effective link building strategies and ineffective "black hat" or "grey hat" linking strategies. Netmark instead focuses on a large overarching link building strategy, not relying too heavily upon any one medium when building successful links back into a website. Using social media sites, quality directories, link baiting, etc., Netmark builds a company's link profile while focusing on diversity.
5. Reporting Methods – Too many SEO companies work in the dark, that is not giving accurate reporting of their clients gains and losses in the search engine result pages, not tracking the expenditure of money, not giving a detailed log of what work was performed, and to that end, TOPSEOS evaluates all companies on their reporting methods, frequency, and overall company transparency.
Netmark really shines in the reporting and transparency. Netmark focuses on world class communication, bring any foreseeable problems and difficulties to the attention of their clients immediately via phone call, and send out regular email updates on work being performed as well as performing work clients want done in addition to their monthly contracted services. Netmark encourages working relationships in all aspects of client interaction, from the initial contact to departing clients, making sure that sales communicates with production, and that both work with the client to ensure that all expectations are met and delivered.
Netmark continues to grow and with an eye on success and quality, Netmark will continue to see success. topseos.com also continues to evaluate new companies and strives to bring impartial evaluations of all companies in their database.