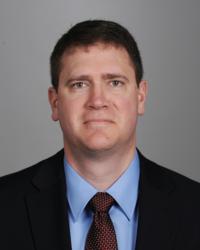 (PRWEB) January 23, 2013
Thomas White, a retired Army JAG officer and former assistant professor at West Point, is the new clinical director of the Veterans Legal Support Center & Clinic (VLSC) at The John Marshall Law School in Chicago.
White has served in positions throughout the United States, as well as Germany and Iraq. His last assignment was assistant professor in the Department of Law at the United States Military Academy at West Point, NY, where he taught business and constitutional law.
White will supervise all VLSC clinic operations and work closely with Brian Clauss, center director of the VLSC.
A John Marshall alumnus, White received an LLM in International Business and Trade Law in 2008. It was as a student that he met Nick Henry (JD/LLM '08), one of the three VLSC founders.
"[Henry] introduced me to Brian Clauss and Professor Joe Butler," White said. "I taught some classes for the Veterans Law course, which had just started."
White sees his position in the VLSC as a continuation of service. "This is the only thing I could see myself doing," White said. "After 25 years of being in the military, serving veterans seems like a logical fit."
Clauss sees White as a perfect fit for the VLSC.
"We're thrilled to have Tom White join us after his outstanding career with the Army," Clauss said. "The experience he brings not only as a legal instructor at West Point, but also as a service member deployed to Iraq, will be invaluable to our clinic."
White received a bachelor's degree from Purdue University, a JD from Valparaiso University Law School, and a second LLM degree from the Judge Advocate General's Legal Center and School.
About The John Marshall Law School
The John Marshall Law School, founded in 1899, is an independent law school located in the heart of Chicago's legal, financial and commercial districts. U.S. News and World Report America's Best Graduate Schools 2013 ranks the law school's Legal Writing Program sixth in the nation. The publication also ranked the Intellectual Property Law Program 17th. John Marshall offers the nation's only graduate program in employee benefits. Its program in Information Technology and Privacy Law remains the only graduate law program in the country that emphasizes privacy as part of its core curriculum. And, The John Marshall Law School is one of three law schools in the country offering graduate programs in real estate law.