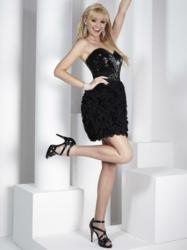 "I am honored to be a part of this beautiful program," said Dalia Kasmikha, owner of Viper Apparel.
(PRWEB) January 22, 2013
Tiffany Designs enthusiastically announced that it was a sweeping choice for evening gowns worn during the 2013 Miss America pageant. Fifty-three women representing the 50 United States, the Virgin Islands, Washington, and Puerto Rico vied for the title during the live ABC broadcast from Las Vegas' Planet Hollywood Resort & Casino on Saturday, January 12, 2013. First developed in 1921, the Miss America competition has evolved into an American tradition.
Miss America contestants compete in local and state pageants before going on to the national stage. Bridgeport, Michigan-based authorized retailer of Tiffany Designs FAB4 prom gown collections Viper Apparel is a proud provider of evening wear and apparel for these and other local pageants. Among the gown choices for Miss Michigan 2012 Angela Venditti was Hannah S style 27727, with a strapless, sweetheart neckline and short black flowered skirt. Miss America 1988, Kaye Lani Rae Rafko, looked stunning on the stage in a gorgeous peacock-trimmed, gold sequined gown by Tiffany Designs. Both were outfitted by Viper Apparel.
As the official sponsor of the Miss and the Teen Michigan American scholarship program, Viper Apparel owner Dalia Kasmikha personally assisted Angela Venditti and Kaye Lani Rae Rafko in making their gown choices for the evening. Every girl competing in Michigan is outfitted at Viper Apparel. Winners get their entire wardrobe for free from the boutique. Dalia was also in attendance during the Saturday night competition.
"All the beautiful girls who are competing go through Viper Apparel to prepare for the pageant," said Dalia Kasmikha. "Whether looking for talent, on-stage questions, or evening wear competition gowns, Viper Apparel provides them with all the dresses." "I am honored to be a part of this beautiful program," she added.
The judging panel for the 2013 competition included teenage Olympic gold-medal gymnast McKayla Maroney, "Dancing With the Stars" pro Cheryl Burke, former Miss America Katie Stam Irk, former "Entertainment Tonight" host Mary Hart, and ABC weatherman Sam Champion. Miss New York Mallory Hagan was crowned the 2013 Miss America. Through charitable and community endeavors during the year, she will tour the nation reaching out to support her ideals and using her title to educate millions of Americans on an issue of importance to herself and society at large.
To browse gowns worn during the 2013 Miss America competition and other prom dresses, pageant dresses, and evening and formal wear collections offered by Tiffany Designs and FAB4 retailers, visit tiffanydesigns.com.