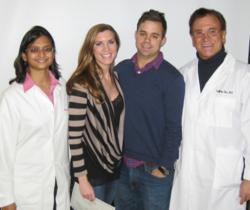 Knowledge is power. We want to help people take charge of their own treatment, and education is an essential part of that process.
St. Louis, MO (PRWEB) January 18, 2013
It is estimated that only one in ten couples that need In Vitro Fertilization to conceive can afford it. Sher Fertility Institute will make that option possible for two fortunate couples on January 27th, 2013. The institute is hosting two free fertility education seminars, each highlighted by the donation of a round of IVF to one couple in attendance.
The seminars will feature presentations by fertility specialists Geoffrey Sher, MD and Molina Dayal, MD, of Sher Fertility Institute's St. Louis clinic, as well as a "town hall" style question-answer session with the doctors. Audience members are invited to ask any question related to fertility.
The January seminars come just a month after Sher Institute hosted similar seminars in December, 2012. The December seminars also featured IVF donations.
Jim and Adrianne Caruso were the grateful winners of a donated IVF treatment at the December seminar. Adrianne, a chemist for Anheuser Busch, is a former Mrs. Missouri and St. Louis Ram's cheerleader. Despite great success in her career and professional pursuits, she and Jim have been struggling for several years to achieve their greatest dream – a family. "I would trade all of my other successes for just this one thing....to be a mom," said Adrianne. "Winning this IVF cycle was a true blessing. My husband and I had been trying to figure out how to make this work financially...this was a huge help."
In addition to information for people just starting to explore infertility treatment, the seminars will have information for those who are seasoned veterans. "We are confident that everyone who attends will gain something they didn't know or weren't aware of before," said Geoffrey Sher, MD, founder and Executive Medical Director of Sher Fertility Institute. "There are many opinions on infertility treatment – even among doctors in the field – and our goal is to provide some information that will help empower each person in attendance."
Dr. Molina Dayal echoed his sentiments. "Knowledge is power; this applies perfectly to infertility. We want to help people take charge of their own treatment, and education is an essential part of that process. The more people know, the more confident they are in making the right decisions for their own circumstances."
Following presentations by Dr. Sher and Dr. Dayal, the floor will be opened to questions from the audience. "The question/answer session is really the highlight of the seminars in many ways," said Dr. Sher. "It really enables us to connect with the audience and fill in gaps that they may have in their understanding of specific fertility issues. It is rewarding to see the light bulb come on as they make those connections."
Topics of discussion at the seminars will include:

Common Causes of Infertility
Factors Affecting IVF Success
Male Factor Infertility
Recurrent Miscarriage
Polycystic Ovarian Syndrome (PCOS)
About Geoffrey Sher, MD
Dr. Sher is a world-renowned leader in the field of infertility and In Vitro Fertilization. He established the first private IVF clinic in the United States 30 years ago and has been influential in the births of more than 18,000 babies through his clinics. Dr. Sher has helped pioneer many breakthroughs in the field of reproductive medicine that have become standard practice in the industry. Patients from around the world seek him out for his knowledge and expertise in treating difficult cases.
About Molina Dayal, MD
Dr. Dayal is a board certified Reproductive Endocrinologist (RE) with nearly a decade of experience in the field of infertility and IVF. Her ties to St. Louis include a residency in Obstetrics and Gynecology at the Washington University School of Medicine and her current faculty position at St. Louis University. Dr. Dayal has authored numerous scientific publications and has received several scientific awards. She has been selected by her peers as one of Washingtonian Magazine's Top Doctors for the past five years, as a Patient's Choice Award recipient for the past five years, and as a Consumer's Research Council Top Doctor for the last six years.
About the Sher Fertility Institute
The Sher Fertility Institute is a national network of fertility clinics specializing in cutting-edge technology, personalized treatment and compassionate care. There are eight Sher Institute locations across the United States including fertility clinics in New York City and Westchester, NY; Dallas, TX; Las Vegas, NV; St. Louis, MO; Peoria, IL; Asbury, NJ and Bethlehem, PA. More information is available on the Sher Institute website at http://www.haveababy.com.