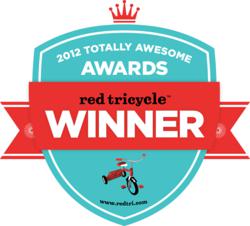 Red Tricycle users have a powerful voice and we're thrilled at their high level of engagement as they weighed in on their top choices for products and their favorite things to see, eat and do in their neighborhood. Jacqui Boland
San Francisco, CA (PRWEB) January 22, 2013
Red Tricycle announced the winners of the 2nd Annual Totally Awesome Awards—an online reader-driven awards program recognizing the best parenting brands, products, neighborhood services and local resources for families with children 0-10. Presented by giggle, the leading retailer for must-have baby items, and FamilyFun, the magazine dedicated to helping moms create fun, happy family memories out of all of life's big moments, big and small, the Totally Awesome Awards is the definitive resource for what's best for parents in the New York, Seattle, San Francisco, Portland, SoCal, Chicago and Los Angeles markets, and nationally.
Driven by an audience of active and engaged moms, this year's Totally Awesome Awards amassed over 200,000 votes in 93 categories that range from local bests (Easiest Drop-off Childcare and Coolest Camps for Kids) to all-time brand favorites (Comfiest Cribs & Beds and Freshest Maternity Fashions). Winners in local categories range from well-known hot spots to hidden gems, while the winners in the product categories include a range of time-tested, nationally-recognized darlings, including Aden+Anais, UppaBaby and Disney Cruises to such up-and-coming brands like The Honest Company and GoGoSqueez.
"Red Tricycle users have a powerful voice and we're thrilled at their high level of engagement as they weighed in on their top choices for products and their favorite things to see, eat and do in their neighborhood." says Jacqui Boland, Founder and CEO of Red Tricycle. "Combined with giggle's robust audience of consumers and Family Fun's dynamic set of loyal readers, we rest assured that this year's Totally Awesome Awards winners are the most vetted and curated list for active families."
Red Tricycle, giggle and FamilyFun promoted the awards through their social media channels. With over 6,000 participating businesses, blogs and websites, Red Tricycle the awards attracted over 200,000 voters over a ten-week period as well thousands of tweets, Facebook likes and shares.
To see a full list of Totally Awesome Award winners, please click the links below;
Essentials Category Totally Awesome Award Winners
Los Angeles Totally Awesome Award Winners
San Francisco Bay Area Totally Awesome Award Winners
Seattle Totally Awesome Award Winners
Portland Totally Awesome Award Winners
Socal Totally Awesome Award Winners
New York City Totally Awesome Award Winners
About Red Tricycle:
Founded in 2006, Red Tricycle is a digital media company that provides authoritative, localized content (things to do, see, eat or buy with kids in a city) to its growing online community of busy urban moms through a variety of communication devices: email, website, social media, RSS, mobile. Their mission is simple: To help parents have more fun with their kids.
About giggle:
A specialty baby brand featuring products, content, ecommerce, retail stores, and a mobile-enabled registry, giggle is the one-stop source for today's new parent, offering a complete checklist of only the best essentials, gifts and resources to make the transition to parenthood not only easier, but smarter.
About FamilyFun
As part of The Parents Network, Meredith Corporation's leading parenthood media portfolio, FamilyFun recently relaunched with a new look and approach designed to help moms create fun, happy family memories out of all of life's big moments, big and small. FamilyFun is unwavering in its mission to inspire its audience of almost 6 million readers to embrace fun in everyday life and make the most of family time together through cooking, creative projects, celebrations, volunteering, travel and other activities.