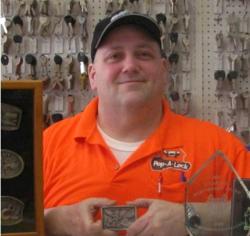 Lafayette, LA (PRWEB) January 21, 2013
American Towman has once again awarded a Pop-A-Lock franchise with their prestigious ACE Award. This time, recognizing Pop-A-Lock of Staten Island, NY as a top provider of roadside service.
The 2012 Towman Ace Award is awarded to the top 1% of towing operations in the country. The award is co-sponsored by National Automobile Club, GEICO, National Motor Club and Nation Safe Drivers. Asurion, Road America, and Agero are listed as the nominating clubs. American Towman Magazine is the leading trade publication serving emergency road service professionals.
Pop-A-Lock of Staten Island has won this award before, the first time being in 2011. Carl Napolitano, accepted the award on behalf of his locksmith and roadside company. The award was commemorated by an original design belt buckle that was presented in November 2012 at the Baltimore Convention Center during the American Towman Exposition, the world's largest trade show and convention for emergency road service providers.
The criteria for receiving this award are meeting ETA's, expressed customer satisfaction, consistency in response time, percentage of calls serviced, and overall professionalism.
Pop-A-Lock of Staten Island provides service 24 hours a day, 7 days a week by uniformed, certified locksmiths and car door unlocking technicians.