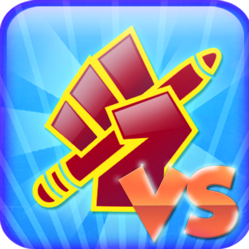 Bogota, Colombia (PRWEB) January 22, 2013
360 Digital Co. releases their first app, Write It! Versus, to the Apple App Store today. It's a writing game similar to those note passing games straight out of junior high classrooms. But instead of a teacher snatching the story away and reading it aloud in front of the whole class, the story can be broadcast over multiple social media networks for the entire world to see! Write It! Versus encourages creative note passing without the embarrassment or fear of getting caught. In fact, the creators want people to share what they've written. "We can guarantee that our Patent Pending System for Story Generation and Creative Stimulation will get you writing amazing phrases and having lots of fun with your friends in no time. It's like the "Who's Line is it Anyway" for apps. We want people to use it as a creative tool for collaborative storytelling."
A player is given a random title and up to three words to use in a Tweet-friendly blurb. Points and coins are awarded based on how fast a story blurb is created and how many of the words are used. The opponent can then rate the story submission for more points and pick up the story where it leaves off using three new words.
There is an evil, egotistical teacher named Mr. Sharks in there too. No need to hide the stories though―the higher the score, the faster a player becomes a Master Storyteller capable of defeating Mr. Sharks. In addition to Mr. Sharks, there is a cast of other colorful, friendlier, characters to help guide a player through the game.
The app also features elaborate social media integration to encourage players to share their stories, ideas, jokes, and mess ups with their friends on Twitter, Facebook, or Tumblr. Title suggestions and words can also be pulled from the Twittersphere to make stories current or trendy. And since each turn only allows a player to write 140 characters or less, the next viral Tweet could be sent through cyberspace from this game.
"It's not just entertainment, it's 'edutainment.' It's a one-of-a-kind captivating blend of beautiful graphics and addictive gameplay catered to casual gamers, creative writers, or anyone that wants to write but does not know were to start. No writing skills are required, but if you are serious about storytelling, creative writing or song writing this is also a great tool for you."
Write It! Versus has both a free version and an ad-free, $2.99 premium version, which provides extra power ups and the ability to download stories to a PDF book. Available today for the iPad, iPhone and iPod Touch.
Free Version Link: http://wrte.it/appstorefree
Premium Version Link: http://wrte.it/appstorepremium
Facebook: https://www.facebook.com/WriteitVS
Twitter: https://twitter.com/WriteItVs
Video Trailer: http://wrte.it/shortDemo
Press Kit: http://www.writeitvs.co/press-release.html
About 360 Digital Co:
360Digital is a Colombian based Start-Up whose main goal is to create Multi Platform Stories throughout Apps, eBooks and Web. With an extensive background creating and producing stories for prime time TV, 360Digital Co has a unique approach to create content, and interactive digital experiences that enhance and personalize the relation between brands and its consumers.