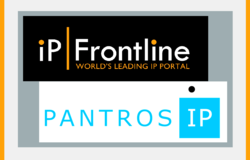 Over the last 3 years we have more than quadrupled our readership.
Sacramento, California (PRWEB) January 20, 2013
Pantros IP, Inc., market leader in concept-based patent search and Intellectual Property management software, has announced the decision to offer their sister company, IP Frontline, for sale. IP Frontline is the industry's leading IP news portal with one of the largest IP and technology article archives in the world.
The Chief Executive Officer of Pantros IP, Colleen Henderson, states, "Pantros IP has always been my first priority and in choosing to pursue our plans for expansion of our remarkable patent search and portfolio management software, I have made the decision to sell IP Frontline in order to focus solely on the continued growth of Pantros IP and its products."
Economies around the world are tightening their belts, but at IP Frontline, they see only dollar signs. So why did Henderson decide to sell the company? She stated, "Over the last 3 years we have more than quadrupled our readership. IP Frontline is currently the number 1 read IP news platform in India and in the United States it has reached a level that would benefit from additional expertise in order to expand it even further."
Henderson goes onto state, "We are proud of what we have accomplished, but at the same time our core business is Pantros IP. Putting IP Frontline up for sale is a strategic decision based solely on our intention to focus our resources on the fundamental growth of the Pantros IP product suite."
Pantros IP (formerly PatentCafe) has received industry-wide recognition for developing one of the first concept-based search engines that uses natural human language. This was the first and still remains the only one of its kind used at the professional level. In discussing future plans for Pantros IP and why this affects IP Frontline, Henderson said that as Pantros IP moves into 2013, the system enhancements and products they are planning to roll out require intensive preparation and development.
So this leaves just one question in the minds of the public… With this prime IP and technology news platform up for sale, who will be the first bidder?
About IP Frontline
IP Frontline is a news platform for the IP and technology community with breaking news and information on intellectual property from around the globe. Their news focuses on people, economics, law, jobs, and politics and they get their news from patent offices, courts, key industry leaders, and even a few sources we can't tell you about. They have more than a thousand contributing authors and daily news reporting combined with an extensive searchable article archive, as well as a European channel focused solely on German IP news.