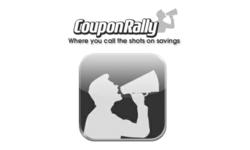 Minneapolis, MN (PRWEB) January 21, 2013
Appmosphere, a mobile app development company based in Minneapolis, is pleased to announce the launch of Coupon Rally v2.0. The app functions as a social network for coupon lovers. Taking advantage of the iPhone's GPS, it allows users to find coupons to local stores on a map of nearby locations. If there isn't a coupon at a location, the app allows users to suggest a coupon to their favorite stores, and then rally their friends behind it. It's a simple way for people to save money at their favorite stores.
For version two, much of the app's UI has been redesigned, specifically the Stores page and the Rally Creation screens. The screens now look better, and certain functions like adding a coupon are more intuitive. The redesign also carries over into the grid view for Rallies and Coupons, which has a smoother interface consisting primarily of text bubbles.
The Account page has also been redesigned to display more of the data that the user will actually care about, such as how much money they've made, and when they will be getting paid. Other features include logging in through Facebook, and more options for sharing Rallies such as through text and email. Locations on the map will now have images pulled from Foursquare or use an arial animation, a feature that gives the app a much better look and feel.
Perhaps the most substantial change was the integration of Passbook. Now, when a user moves a coupon onto Passbook, the coupon will be available directly on their phone, allowing an employee at the register to simply scan the user's phone for deals. Another exciting feature of the Passbook integration is its geofencing capabilities. If a user has a coupon saved to Passbook, it can pop up on their iPhone's Lock screen as soon as the user enters the establishment to which the coupon belongs. Coupon Rally's new features and updated interface is sure to attract new users, and keep existing ones coming back for more.
About Appmosphere, Inc.
At Appmosphere, our vision is to utilize the best technologies to help improve people's lives through intuitive, relevant, and efficient software tools.
Appmosphere was founded in 2007, putting us at the beginning of the mobile software development revolution. As smart phones have evolved, so have we; Appmosphere has remained at the forefront of all new platforms and technologies.
Appmosphere is a cutting-edge, full-service provider of mobile application development and marketing strategies. We can help clients with all their mobile needs by providing a wide range of mobility consultation, implementation, and management solutions.