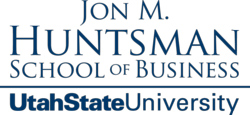 "We want people to learn from the experiences, mistakes and triumphs of real entrepreneurs," Michael Glauser said. "We want to help them discover some keys to success that they can implement in their own endeavors."
Logan, Utah (PRWEB) January 22, 2013
On Jan. 30, Jon Schmidt, a musician who has reached millions with his music, will walk out on stage at Utah State University, but he won't be hosting a concert.
Schmidt will speak at the Eccles Conference Center Auditorium at 6 p.m. about building the business side of the recently formed group The Piano Guys. It will all be part of this year's Jon M. Huntsman School of Business Entrepreneur Leadership Series.
"I expect that Jon might play a few tunes to illustrate his points," said Mike Glauser, director of the Center for Entrepreneurial Excellence at the Huntsman School. "But his purpose will be to share insight into the strategies he has used to reach such large audiences."
The series will feature nine other entrepreneurial leaders including Dan Clark, the founder of Clark Success Systems who has been named one of the top ten speakers in the world; Scott Watterson, co-founder of Icon Health and Fitness; Cydni Tetro, entrepreneur in residence for the Walt Disney Company and Alan Hall, founder of Grow America and Market Star. The speakers will be sharing their stories and tips on Wednesdays, starting Jan. 23, at 6 p.m. in room 215 of the George S. Eccles Business Building on the Utah State University campus. The weekly events are free and open to the public. For more information about the speakers, click here.
"It is quality speakers like Jon Schmidt who make this year's Entrepreneur Leadership Series line-up the best we've ever had," Glauser said.
This particular speaker series will be different than those in the past because each lecture will address a particular theme of business building, such as e-commerce, social media or manufacturing, he said.
"We want people to learn from the experiences, mistakes and triumphs of real entrepreneurs," Glauser said. "We want to help them discover some keys to success that they can implement in their own endeavors."
The scheduled speakers are as follows:
Jan. 23 — Building a Thriving E-Commerce Business.
Jana Francis and Rett Clevenger: founders of Steal Network
Francis's motivation to start her own company came after returning to her corporate job from maternity leave. It was then that she started BabySteals.com, a website that offers two daily deals a day on baby or maternity products. Co-founder Clevenger has extensive experience in managing, building and marketing websites that have caught the attention of companies like Google.
Jan. 30 — Building a Music Company with Social Media
Jon Schmidt: The Piano Guys
Jon Schmidt, who began playing the piano at age 11, has become an Internet sensation with more than one million YouTube subscribers and nearly 200 million total views from his project, The Piano Guys.
Feb. 6 — Building a Worldwide Market Company
Alan Hall: founder of Grow America and Market Star
Alan Hall has a personal mission to create jobs and lift local economies. Grow America, a national company, aligns the partners, mentors and capital that entrepreneurs need to create and grow successful companies.
Feb. 13 — Building a Successful Consulting Practice
Douglas D. Anderson: dean of the Jon M. Huntsman School of Business
Prior to becoming dean, Douglas D. Anderson was co-founder and managing partner of the Boston-based Center for Executive Development (CED), a company that was at the forefront of its field. It offered customized executive education and guidance with large-scale, strategic change initiatives.
Feb. 20 — Building the World's Largest Fitness Company
Scott Watterson: co-founder, chairman and CEO of Icon Health and Fitness
Scott Watterson is an expert in product development, manufacturing, importing, marketing, sales and distribution of consumer products. He was the recipient of INC. Magazine's Entrepreneur of the Year Award for the Intermountain Region in 1996.
Feb. 27 — Building Businesses as a Family Affair
Larry and Caryl Abdo: social entrepreneurs and founders of the Abdo Markethouse
From transforming an old soup kitchen into a boutique hotel, to starting a chain of vintage hamburger restaurants, the Abdos have made business a family affair. Each of their four children works for a different Abdo enterprise.
March 6 — Building an International Speaking Business
Dan Clark: founder of Clark Success Systems
Dan Clark has been named one of the top ten speakers in the world by Achievers North America and Achievers Europe. He is a New York Times best-selling author, award-winning athlete and president/CEO of Clark Success Systems, an international communications and high performance consulting firm. Clark is leading an international movement to teach leaders and organizations how to transform themselves from successful to significant.
March 27 — Innovation in the Health Care Industry
Charles Sorenson: CEO of Intermountain Healthcare
Under Charles Sorenson's leadership, Intermountain Healthcare has applied a disciplined and system-wide focus on the implementation of best clinical practices aimed at producing measurably better outcomes for patients. He began his practice at LDS Hospital in 1982.
April 3 — Building a Premier Ski Company While in College
Daniel Nebeker, Adam Hepworth and Jared Richards: founders of Bluehouse Skis
Bluehouse is a Salt Lake City-based snow ski manufacturer now in its fifth season. As manager of Bluehouse Ski Company, Daniel Nebeker built his company's manufacturing facility and designed several of its machines. Jared Richards is an attorney and entrepreneur striving to have a net positive effect on the community, and Adam Hepworth is CEO and lead product engineer of the company.
April 10 — Innovation and Entrepreneurship at Disney
Cydni Tetro: entrepreneur in residence for the Walt Disney Company
As an Entrepreneur in Residence for the Walt Disney Company, Cydni Tetro helps take Disney technologies to market. Her expertise is in sales, marketing and customer acquisition.
The Jon M. Huntsman School of Business at Utah State University seeks to inspire and equip students to become innovative, ethical leaders with refined analytical skills that will help them understand and succeed in the global marketplace. The Huntsman School of Business is one of eight colleges at USU, located in northern Utah. More information on the Jon M. Huntsman School of Business may be found on the web at http://www.huntsman.usu.edu.