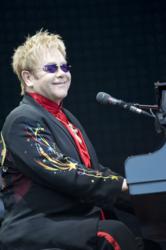 New York, NY (PRWEB) January 18, 2013
Cheap Concert Tickets announces that Elton John will be touring throughout North America during 2013. There is something to be said about 1960s and 1970s hit singers. Those were turbulent times, with lots of flamboyance and an explosion of outrageous creativity which endures to this day. Among the most iconic artists who made their mark during the seventies is Sir Elton Hercules John, CBE.
The English rock star, pianist, showman, singer, songwriter, wrote most of his songs in collaboration with lyricist Bernie Taupin. He released his first album, Empty Sky, in 1969, and since then has sold more than 250 million records worldwide. He is one of the most successful recording artists of all time. He is third on the Billboard Hot 100 Top All-time Artists.
He has had critical success and awards, as well. He has six Grammy Awards, one Academy Award, a Tony Award, a Golden Globe Award, as well as four Brit Awards. In 1994, Elton John was inducted into the Rock and Roll Hall of Fame. In 1996, he was named a Commander of the British Empire (CBE), and later knighted by Queen Elizabeth II in 1998.
His biggest hit was the rework of Candle in the Wind 1997. The original Candle in the Wind was a homage to Marilyn Monroe. The 1997 version was dedicated to the memory of Princess Diana. It sold more than 33 million copies, and became the best selling single of the UK Singles Chart as well as the Billboard Hot 100. The sales of his singles and albums have brought him recognition with the chart compilers. He has nine Number 1 hits, 56 Top 40 hit singles. He had a string of seven consecutive No. 1 US albums.
Elton John's success has made it possible for him to engage in philantrophy. He has been raising money and awareness for AIDS since the late 1980's. He established the Elton John AIDS foundation in 1992. Since 1993, he has raised more than $200 million for the foundation.
Elton John's concerts have evolved since the 1970s. He was associated with glam rock as he played the piano with big hats, outlandish costumes and oversized glasses. As a teenager he was trained in classical music and this shows in the musicality of his songs and performances which continue strongly on its emphasis on story-telling and classical influences.
For 2013. Elton and his band continues their tour in South America, playing shows in Brazil, Chile, Argentina and Uruguay. He continues his tour in the United States with stops in Alabama, Tennessee, Louisiana, Ohio and Nevada. He then goes to Europe, touring Ireland, Estonia, Germany, Italy, England, Russia and France. His tour schedule is full for the whole year.
For someone who has been performing almost non-stop for forty years, Elton John shows no signs of stopping or slowing down anytime soon. His has a full concert schedule on his plate, as well as other activities for charity. With the energy he continues to show,
His latest album, The Diving Board, was set for release in late 2012, however, the release was rescheduled for 2013 for better promotional scheduling. As part of his 2013 concert schedule, Elton John will continue his show, The Million Dollar Piano, in Las Vegas. It started in 2011, and is set to run for three years.
Elton John's 2013 North American concert schedule is below:
3/15/13 Birmingham AL - BJCC Arena
3/16/13 Memphis TN - FedEx Forum
3/20/13 Macon GA - Macon Centreplex
3/29/13 - Baton Rouge LA - Baton Rouge River Center Arena
3/30/13 - Biloxi MS - Mississippi Coast Coliseum
4/3/13 - Dayton OH Wright State University Nutter Center
4/5/13 - Nashville TN - Bridgestone Arena
The Million Dollar Piano Dates:
4/20/13 - Las Vegas - Caesars Palace
4/21/13 - Las Vegas - Caesars Palace
4/23/13 - Las Vegas - Caesars Palace
4/24/13 - Las Vegas - Caesars Palace
4/27/13 - Las Vegas - Caesars Palace
4/30/13 - Las Vegas - Caesars Palace
5/1/13 - Las Vegas - Caesars Palace
5/4/13 - Las Vegas - Caesars Palace
5/5/13 - Las Vegas - Caesars Palace
5/8/13 - Las Vegas - Caesars Palace
5/9/13 - Las Vegas - Caesars Palace
5/10/13 - Las Vegas - Caesars Palace
5/11/13 - Las Vegas - Caesars Palace
About CheapConcertTickets.me:
Cheap Concert Tickets delivers tickets to sold out concerts and events worldwide when no one else can, and they do so at discounted prices. As a member of TicketNetworkDirect, they can guarantee the delivery of tickets on time for sporting events, NASCAR, NBA, NFL, and NHL. This popular ticket exchange also has cheap Monster Jam Trucks tickets and discounted Elton John tickets. With CheapConcertTickets.me customer service is a priority, for more information email support(at)cheapconcerttickets(dot)me.